Siemens Healthineers Highlights Progress of Photon-Counting CT and More at RSNA 2022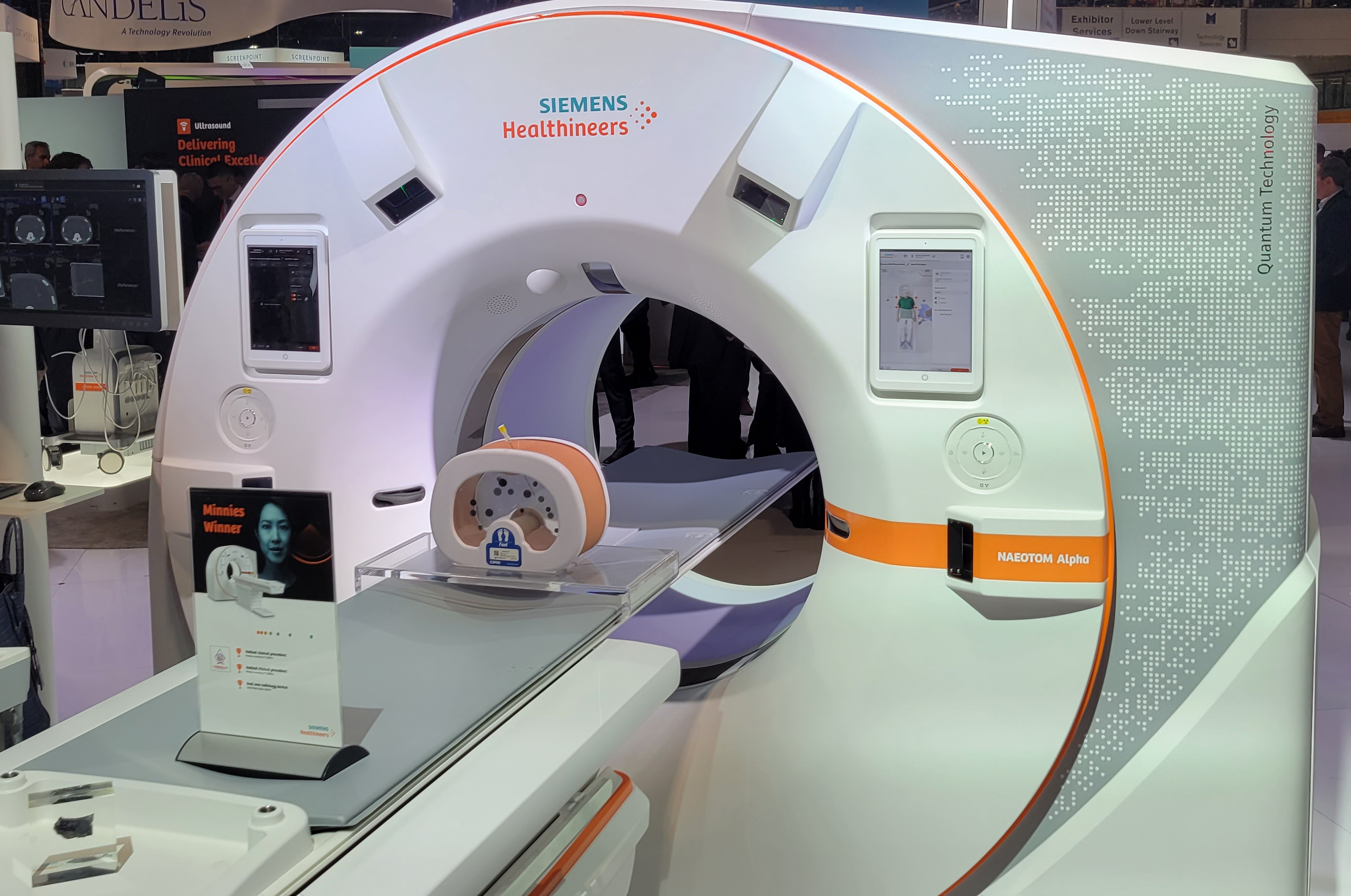 Symbia Pro.specta SPECT/CT scanner.
In CT, the star of the show has been Naeotom Alpha, the photon-counting CT scanner that was cleared by the U.S. Food at Drug Administration (FDA) in 2021. This year at RSNA, Siemens is showcasing clinical and research findings coming in from sites where the scanner is installed.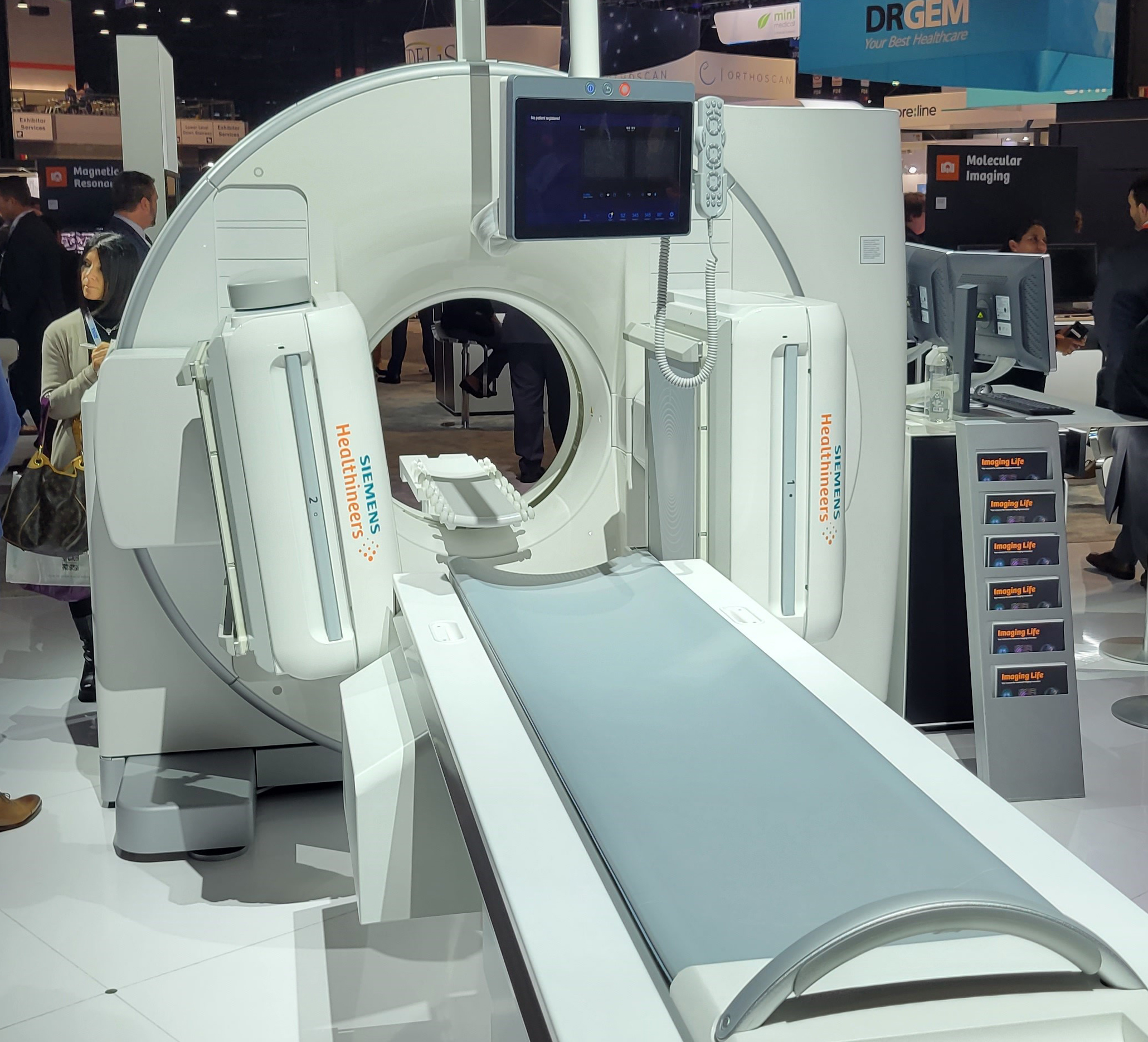 Symbia Pro.specta SPECT/CT scanner.
In addition to the benefits of photon-counting CT for conducting research, users are also finding the system to be a clinical workhorse. Some sites in the U.S. are scanning 60 patients a day, while a few international sites are seeing volumes as high as 70 patients a day.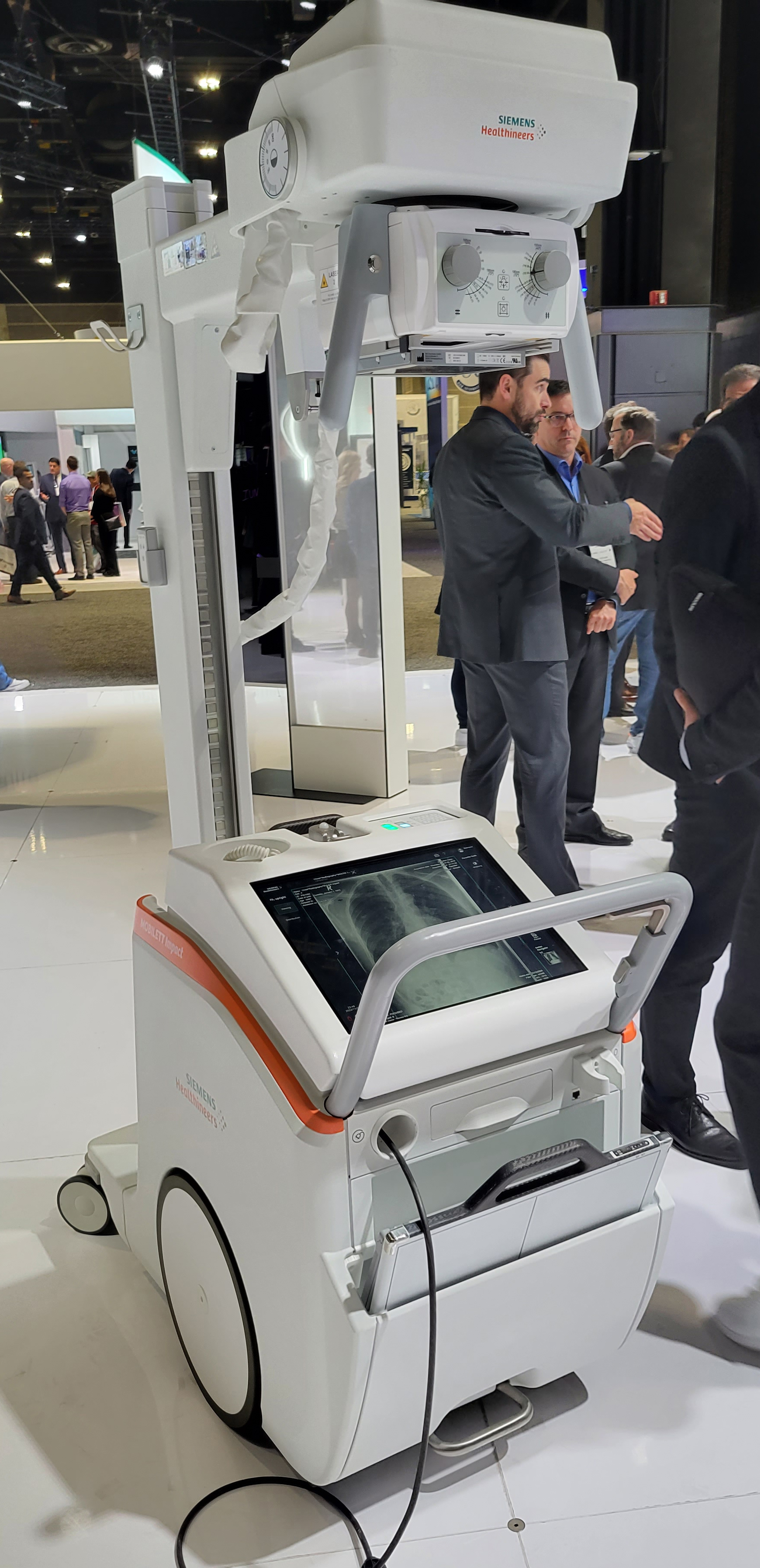 The Mobilett Impact mobile x-ray system.
In its RSNA booth, Siemens is demonstrating high-resolution wrist images acquired with a slice thickness as low as 0.2 mm, which enables the visualization of microfractures and can help in monitoring the healing of wrist fractures. The 0.2-mm slick thickness also enables the visualization of very small blood vessels in the brain that could be the source of stroke, but that are too small to see with conventional CT technology.
Naeotom Alpha is now able to perform CT angiography (CTA), thanks to an FDA clearance for the company's VA50 software that Siemens received in the summer of 2022. Photon-counting CTA is well-suited for visualizing coronary stents, and even enables the visualization of in-stent restenosis.
In x-ray, Siemens is talking up the major investments the company has been making in mobile x-ray. Mobilett Impact is a value-tier mobile x-ray system that will be targeted at international hospitals that may be making the transition from analog mobile x-ray or computed radiography-based mobile systems. The system is being shown as a work in progress.
Meanwhile, Multix Impact E is an entry-level floor-mounted digital x-ray system that's also targeted at a lower price point.
On the vascular imaging side, Siemens is displaying Artis icono Ceiling, a ceiling-mounted single-plane angiography system that the company launched in 2019 and that completes Siemens' line of angio systems. The healthcare business worked with Siemens Automation to develop a system that is faster and more precise. The system's conebeam CT function is now even faster, performing a full spin in as little as 3 seconds.
Siemens has begun deliveries of Artis icono Ceiling, with the first U.S. unit being installed at the company's service and training center in Cary, NC. The first customer installations will begin in February 2023.
In women's imaging, Siemens is highlighting a new update for its interpretation workstation, MammoVista B.smart. Tools for reading breast MRI exams have been added, giving the workstation a multimodality capability. Radiologists are now able to report breast images from multiple modalities from the same workstation.
In nuclear medicine and molecular imaging, Siemens is highlighting the Symbia Pro.specta SPECT/CT scanner, which was launched in June 2022 at the Society of Nuclear Medicine and Molecular Imaging meeting. The system includes automation features and dedicated tools designed to improve workflow and image quality, and is available in 32-slice and 64-slice CT configurations.
On the PET side, Biograph Vision Quadra has been available since October 2020, and Siemens is seeing growing interest in the PET/CT system at both clinical and research sites. The system has a 106-cm axial field of view, which enables users to scan the full breadth of radioisotopes with 10 times the sensitivity of Siemens' previous PET/CT scanner. Users can also choose to scan at lower radiation dose, which can make it easier for researchers to get approval for their studies from institutional review boards.
In ultrasound, Siemens is highlighting the launch of a 2.0 software package for its Acuson Sequoia, Redwood, and Juniper ultrasound scanners. The package includes software for quantification of nonalcoholic fatty liver disease (NAFLD), enabling clinicians to detect the condition before fibrosis sets in. The package also improves the penetration of DAX transducers on Sequoia to 55 cm, and there are also new transducers for pediatric, breast and small parts, and endovaginal imaging.
In its digital automation business, Siemens is discussing how technologies like its syngo Carbon software can help healthcare providers improve their workflow and deal with the ongoing staffing shortage. Another tool that can help with staffing issues is syngo Virtual Cockpit, and Siemens is showing how the technology can be used to enable expert technologists at a central location to assist RTs at a remote location with scans.