Safety Trial for Ultrasonic Treatment of Alzheimer's Disease Begins at The University of Queensland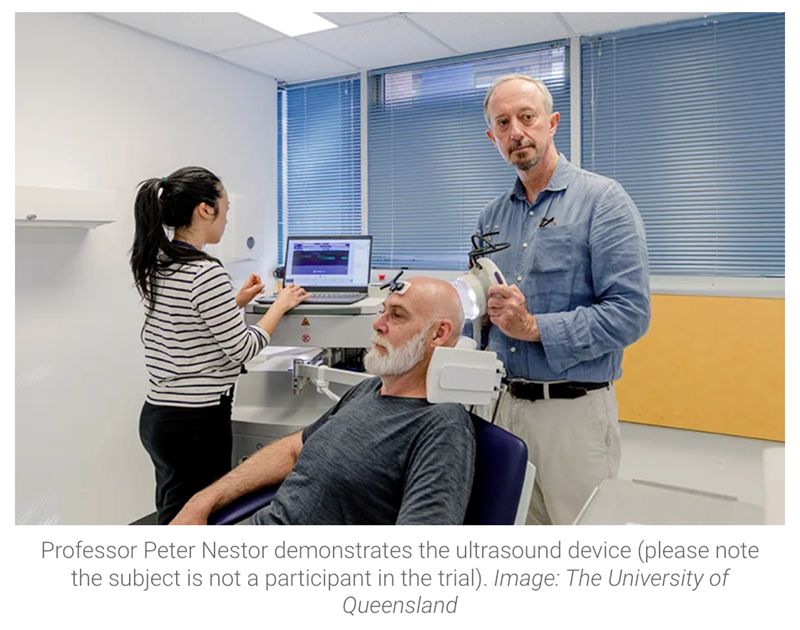 A pioneering treatment for Alzheimer's disease, developed at The University of Queensland, is being tested in a small safety trial underway in Brisbane. The safety trial - with a limit of 12 participants - is the culmination of a decade of ongoing research led by Professor Jürgen Götz, PhD, Dr habil, FAHMS, GAICD, at UQ's Queensland Brain Institute (QBI).
Professor Götz said the study was an important step to determine whether the ultrasound could be safely delivered, following pioneering discoveries about its potential use to improve memory function.
"There is currently no effective treatment for Alzheimer's, so it is hugely rewarding that wecould in the future potentially treat the disease with ultrasound," Professor Götz said.
The 12-month trial is being conducted at Mater Hospital Brisbane and UQ and is being overseen by researcher and neurologist, Professor Peter Nestor, MBBS, PhD, QBI.
"We're treating an area at the back of the brain that is affected early in the course of Alzheimer's disease," Professor Nestor said.
"Each participant receives four treatments which will be administered fortnightly, and after completing the course, they'll have an MRI scan of the brain and a repeat cognitive test."
Alzheimer's disease is the most prevalent form of dementia and the second leading cause of death in Australia.
Innovation Minister Stirling Hinchliffe said the Queensland Government was a foundation supporter of QBI and its research.
"Through our Advance Queensland initiative, we've invested $5 million in QBI to develop and trial a prototype ultrasound device for treating dementia," Mr Hinchliffe said.
"The small safety trial starting now brings QBI one step closer to a potential world dementia treatment breakthrough, made and developed in Queensland.
"QBI is one of a growing number of Queensland innovators transforming great ideas and research into the good Queensland jobs of the future economy.
"Our Advance Queensland Innovation for a Future Economy 2022–2032 roadmap is Queensland's time to shine on the world stage."
QBI researchers have worked alongside design and engineering teams to develop a t-for-purpose ultrasound device for clinical use in the trial.
QBI Director Professor Pankaj Sah said the study was an exciting milestone for the Clem Jones Centre for Ageing Dementia Research treatments and interventions for dementia.
"We pay homage to the hard work and dedication of our CJCADR researchers as they build on 10 years of research excellence, continuing their mission to improve the lives of people living with dementia," Professor Sah said.
"The use of ultrasound to treat the most prevalent form of dementia is enormously exciting because it tackles one of the biggest health challenges of our time.
"This achievement would not have been possible without the Clem Jones Foundation, our many donors, and the combined support of the Queensland and Federal Governments which has enabled us to progress discovery research to human trials."
Professor Götz said the study followed the pioneering discovery published in 2015 that ultrasound could clear the toxic amyloid-b plaque build-up – the hallmark of Alzheimer's disease, and – importantly - restore memory functions.