RSNA 2015: MRI confirms that weight loss helps protect knee cartilage
By Staff News Brief
It's not clinical news that obese people have more "bad" knees than slim individuals, but a study presented in a scientific session at RSNA 2015 confirms that substantial weight loss can significantly slow the degeneration of knee cartilage of the obese. It shows that MR-based knee cartilage T2 measurements and semiquantitative grading allow monitoring of the protective effect of weight loss on joint health, and may be useful to determine what amount of weight loss is most beneficial to overweight patients.
By 2030, an estimated 70 million people will be over the age of 65 – approximately 20% of the U.S. population, and will be at risk for osteoarthritis. As osteoarthritis progresses, it may be necessary to replace the knee. Obesity is a major risk factor for osteoarthritis, a disease that affects about 30% of adults in the over the age of 60, according to the U.S. Centers for Disease Control and Prevention.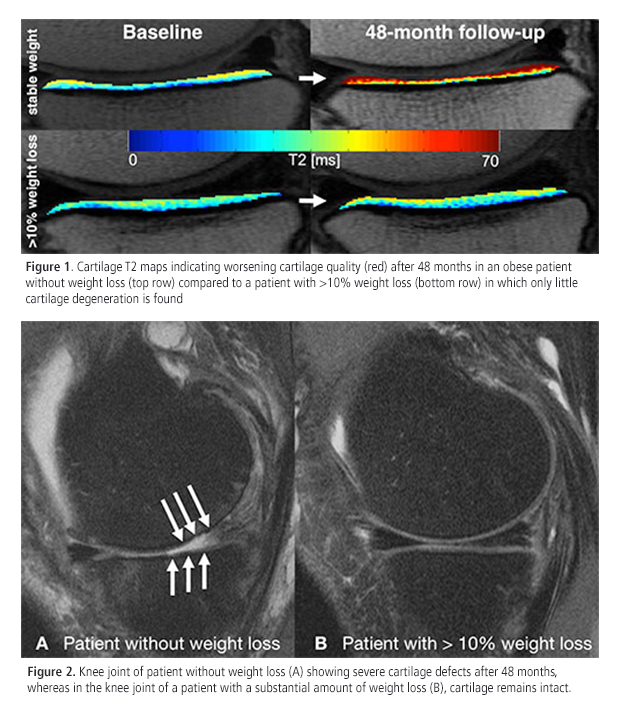 Researchers at the University of California San Francisco conducted a study of the association between different degrees of weight loss and the progression of knee cartilage degeneration in 506 overweight and obese patients. These patients were among the nearly 5,000 individuals enrolled in the Osteoarthritis Initiative, a nationwide research study focused on the prevention and treatment of knee osteoarthritis. The objective of the study undertaken at four clinical centers and a data coordinating centers has been to provide data and diagnostic images to researchers worldwide to help quicken the pace of biomarker identification, scientific investigation, and osteoarthritis drug development. All participants recruited either had or were at high risk for developing symptomatic knee osteoarthritis. Research included imaging the knees of participants annually for four years using a 3.0 Tesla MRI scanner.
For the UCSF study, the 506 patients had mild to moderate osteoarthritis or risk factors for the disease. They were divided into three groups: a control group of 253 patients who did not lose weight over a four year time period, a second group of 177 patients who lost between 5%-10% of their body weight, and a third group of 76 patients who lost more than 10%. Lead author Alexandria Gersing, M.D., from the Department of Radiology and Biomedical Imaging, and colleagues used MRI to quantify knee osteoarthritis. Changes of focal cartilage defects were assessed with Whole-Organ Magnetic Resonance Imaging Score (WORMS) and T2 maps of the right knee for five cartilage compartments. These compartments (patella, medial and lateral femur, medial and lateral tibia), including laminar and texture analysis, were analyzed using multivariate regression models adjusting for age, sex, and baseline body mass index (BMI).
"Through T2 relaxation time measurements from MRI, we can see changes in cartilage quality at a very early stage, even before it breaks down," commented Dr. Gersing. "Overall cartilage WORMS showed significantly less progression in both the 5%-10% and over 10% weight loss groups compared to the group of patients who did not lose any weight. The patients who lost at least 10% of their body weight showed significantly less T2 value increase in the bone layer averaged over all compartments compared with stable weight subjects. This suggested slower cartilage deterioration, especially in the weight-bearing regions of the knee."
Specifically, Dr. Gersing said that she and her colleagues observed a 0.9 increase in T2 measurements over four years in patients who had no weight loss. By comparison, patients who lost more than 10% had increase of less than 0.4, more than a 55.6% reduction in the rate of cartilage layer damage.
The USCF research team plans to conduct an eight-year follow up with the patient group to formally analyze the effects of weight gain on knee joints.
The message to radiologists is that this study may give physicians some additional "ammunition" to try to persuade their patients who need to lose weight that by doing so, they may preserve the health of their knees and ultimately, their mobility.
Back To Top
---
RSNA 2015: MRI confirms that weight loss helps protect knee cartilage. Appl Radiol.
By
Staff News Brief
|
December 01, 2015
About the Author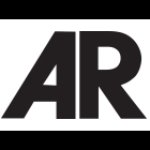 Staff News Brief