ProFound AI Outperforms Breast Cancer Risk Model in Clinical Study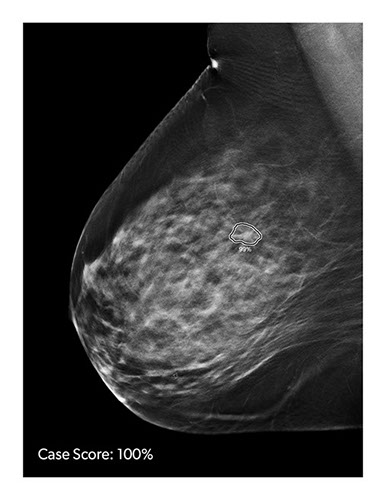 A study published in the Journal of Clinical Oncology found that ProFound AI Risk for 2D Mammography is more accurate than Tyrer-Cuzick v8, a commonly used lifestyle risk model, for both short-term and long-term risk assessments.
"The clinical value of ProFound AI Risk is unparalleled, and this exciting research adds to the growing body of evidence that confirms iCAD's technology is not only more personalized than traditional lifestyle risk models, but also more accurate," said Dana Brown, President and CEO of iCAD, Inc. "Breast cancer is the most common cancer in women worldwide and the second leading cause of cancer death among women in the U.S., but early detection and diagnosis are a key part of transforming the patient journey and quality of care. ProFound AI Risk provides clinicians with superior insights that can empower them to tailor a woman's breast screening regimen and potentially identify cancers earlier. This is truly game changing technology with life-changing impact."
Using the unique KARolinska MAmmography Project for Risk Prediction of Breast Cancer (KARMA) screening cohort, researchers compared ProFound AI Risk with Tyrer-Cuzick v8 in a case-cohort study of 8,604 women aged 40-74 years throughout a 10-year follow up. ProFound AI Risk offered higher accuracy than Tyrer-Cuzick v8 for all women – regardless of menopausal status, breast density, and family history of breast cancer – with an area under the curve (AUC) ranging from 0.74-0.65 for ProFound AI Risk, compared to 0.62-0.60 for Tyrer-Cuzick v8.
"This research shows that an image-based risk model can identify high-risk women who may benefit from additional screening or risk reducing intervention. The tool is designed to help clinicians potentially catch cancer sooner, when it is more easily treated or prevented. Both the National Institute for Health and Care Excellence (NICE) and US Preventive Services Task Force (USPSTF) clinical guidelines recommend risk-reducing interventions or more intense screening for women determined to have high risk on the basis of the 10-year or lifetime risk of breast cancer. With ProFound AI Risk, clinicians can now do this with even greater accuracy," said lead researcher, Mikael Eriksson, PhD, Karolinska Institutet. "It is also worth noting that ProFound AI Risk offered higher accuracy than Tyrer-Cuzick for women with both dense and non-dense breasts. Given that screening sensitivity for women with extremely dense breasts is approximately 50% compared with approximately 90% in women with almost entirely fatty breasts, ProFound AI Risk may help clinicians overcome the challenging task of detecting a tumor masked by dense tissue by identifying women who may benefit from supplemental screening following a negative or benign screen."
iCAD's Breast AI Suite offers a 360-degree solution of clinically proven cancer detection, density assessment, and risk evaluation technologies. The latest addition to iCAD's Breast AI Suite, ProFound AI Risk, is the world's first clinical decision support tool that provides an accurate short-term breast cancer risk estimation that is truly personalized for each woman, based only on her mammogram. Available for both 2D and 3D mammography, it uniquely combines age, breast density and subtle mammographic features, offering superior performance and accuracy in assessing short-term risk compared to traditional, commonly-used breast cancer risk models. ProFound AI Risk complements traditional risk models and is easy for clinicians and medical facilities to adopt, as it only requires the images from a 2D or 3D mammogram, with no questionnaires, portals, or staff required to implement.
"Physicians have traditionally estimated breast cancer risk by examining the patient's known risk factors, such as family history, but about 85% of breast cancers occur in women who have no family history of breast cancer," added Brown. "With ProFound AI Risk, patient care has never been more personalized. By empowering radiologists with more information about a woman's individual risk, they can tailor breast cancer screening and maximize mammography's effectiveness, which ultimately leads to finding cancer sooner, reducing costs to the overall healthcare system, and most importantly, saving lives."