New Scenaria View 128-Slice CT Scanner Is Highlight for Fujifilm at RSNA 2022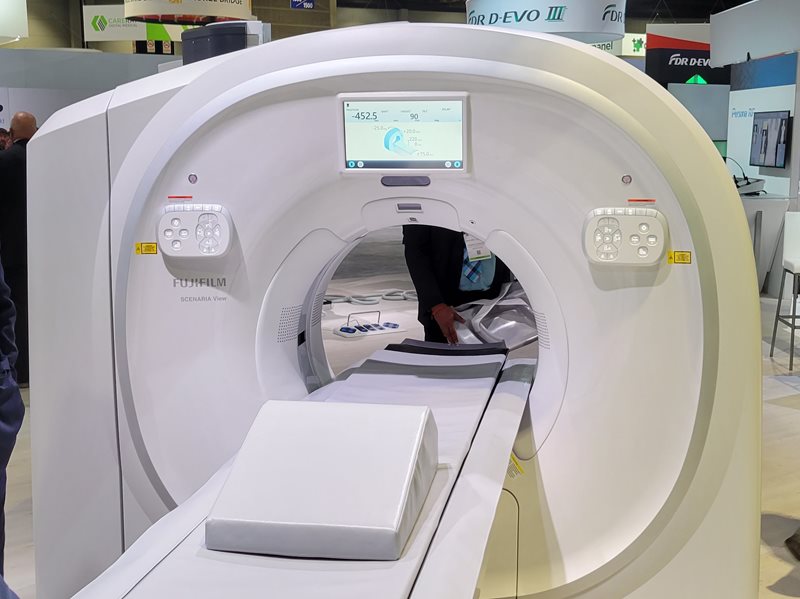 SCENARIA View Focus Edition is a new 128-slice CT
scanner with the Cardio StillShot application for
heart scanning.
A new edition of its SCENARIA View 128-slice CT platform was a highlight for FUJIFILM Healthcare Americas at the RSNA 2022 meeting. The company also displayed a new long-length detector for digital radiography (DR) studies, as well as new technologies in mammography and MRI.
The new CT scanner is called SCENARIA View Focus Edition, and like the previous edition of SCENARIA View is a 128-slice scanner with 40 mm detector width. But the new edition includes Cardio StillShot, a scanning package designed to help clinicians acquire clearer heart images.
Cardio StillShot applies voxel-by-voxel motion correction to cardiac CT images, and with the protocol running users can achieve temporal resolution for heart scans of 28 milliseconds, compared to 175 milliseconds previously. The technology is well-suited for patients with high heart rates, and can enable the use of prospective gating on more patients to achieve lower radiation dose for cardiac scans.
Fujfilm believes that SCENARIA View Focus Edition with Cardio StillShot could provide a good alternative to super-premium scanners for community hospitals that want to offer cardiac CT. The system was cleared by the U.S. Food and Drug Administration in April 2022 and is shipping.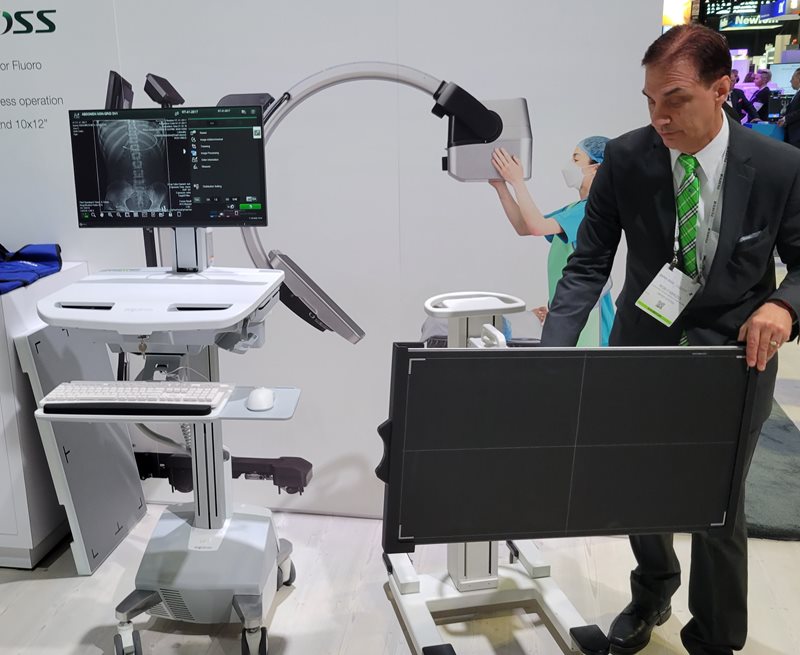 New x-ray technologies on display in the Fujifilm booth
included FDR Cross and a long-length DR detector.
In digital x-ray, Fujifilm highlighted a new long-length DR detector, FDR D-EVO III G80i. The detector is designed to be a lightweight option for pediatric departments and hospitals that conduct a large number of scoliosis, spine, or leg exams and that don't want to stitch images together from different x-ray acquisitions. Shipments of the detector will begin in December.
Also on display was FDR Cross, a hybrid C-arm and portable x-ray system that Fujifilm introduced in July 2022. The system enables users to acquire both fluoroscopy and radiography images on a single platform. FDR Cross is available in three detector sizes and sports eight hours of battery life.
Another novel Fujifilm x-ray technology on display at RSNA 2022 was FDR Xair, a handheld x-ray device that's light and portable. The device is small enough to fit in a backpack, and the company believes it could replace larger conventional portable x-ray systems for home-care services, as well as for disaster response and in nursing homes. FDR Xair is awaiting FDA clearance and was shown as a work in progress.
In mammography, Fujifilm demonstrated enhancements for its ASPIRE Cristalle mammography system with digital breast tomosynthesis (DBT) that are designed to make breast imaging more comfortable. These include new Comfort Paddles and a Comfort Comp feature that can reduce compression without affecting exam quality. The company also recently received FDA clearance for a contrast-enhanced digital mammography (CEDM) technique.
On the software side, Fujfilm demonstrated BoneView, an artificial intelligence (AI) algorithm developed by Gleamer and licensed to Fujifilm for distribution. BoneView analyzes x-rays to detect and localize fractures before images are sent to radiologists for review. Fujifilm's X-ray systems in the U.S. will have the option to be equipped with Fujifilm's new hardware kit called EX-Mobile enabling integration of the BoneView software onto workstations such as desktop and mobile acquisition console upon completion of regulatory requirements.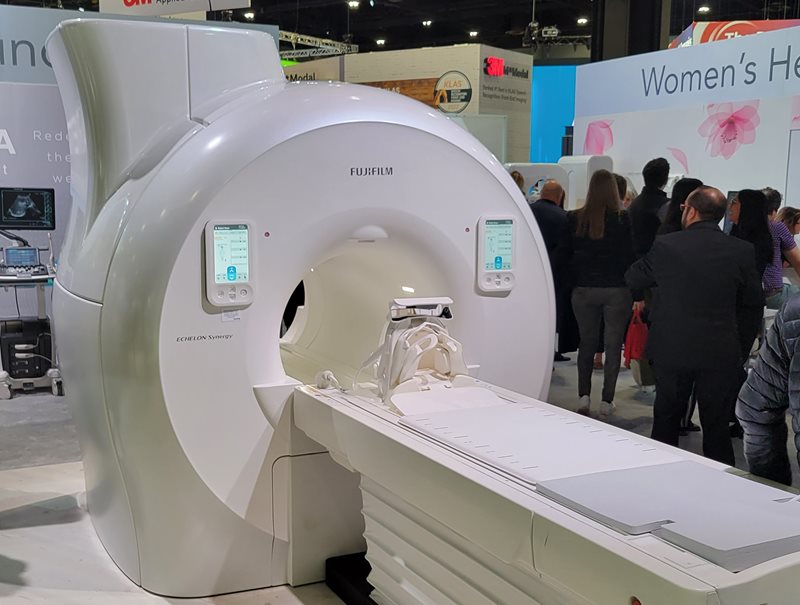 ECHELON Synergy is a new MRI scanner that Fujifilm
demonstrated at RSNA 2022.
In MRI, Fufjifilm was demonstrating ECHELON Synergy, a new edition of the company's ECHELON MRI platform. The scanner includes single-touch operation and controls on the gantry, and sports image reconstruction based on AI algorithms. ECHELON Synergy is awaiting FDA clearance and was shown at RSNA 2022 as a work in progress.
In ultrasound, Fujifilm demonstrated the DeepInsight (DI) upgrade for its ARIETTA scanners. The DeepInsight algorithm identifies and removes noise in ultrasound images, and applies the most appropriate imaging filter based on different parameters. The ARIETTA 650 and 850 scanners have already been updated to the DI edition, while ARIETTA 750 will get the upgrade soon. DeepInsight has FDA clearance.
Fujifilm also demonstrated its latest advances in enterprise imaging and artificial intelligence. Cloud-based image management has been a major focus for the company due to customer interest in the technology, which can reduce IT staffing costs and exposure to cybersecurity risk for hospitals. Fujifilm can offer customers cloud image storage using a private data center the company runs in Denver, or it can provide cloud services using public providers like Amazon Web Services or Microsoft.
In PACS, the company demonstrated a new version of its Synapse 7 image management software, which gives users the ability to manage both radiology and cardiology images on the same platform. Synapse 7.2 was released in August 2022 and includes an analytics package that enables users to better visualize their department's operations.
REiLI is Fujifilm's platform for AI, and the company discussed how the platform provides an open environment that enables users to deploy AI algorithms both from Fujifilm and from other developers. Clinicians using REiLI don't need to change their workflow to use AI, according to the company.