New Canon Technologies at RSNA 2022 Include AI-Driven CT Data Reconstruction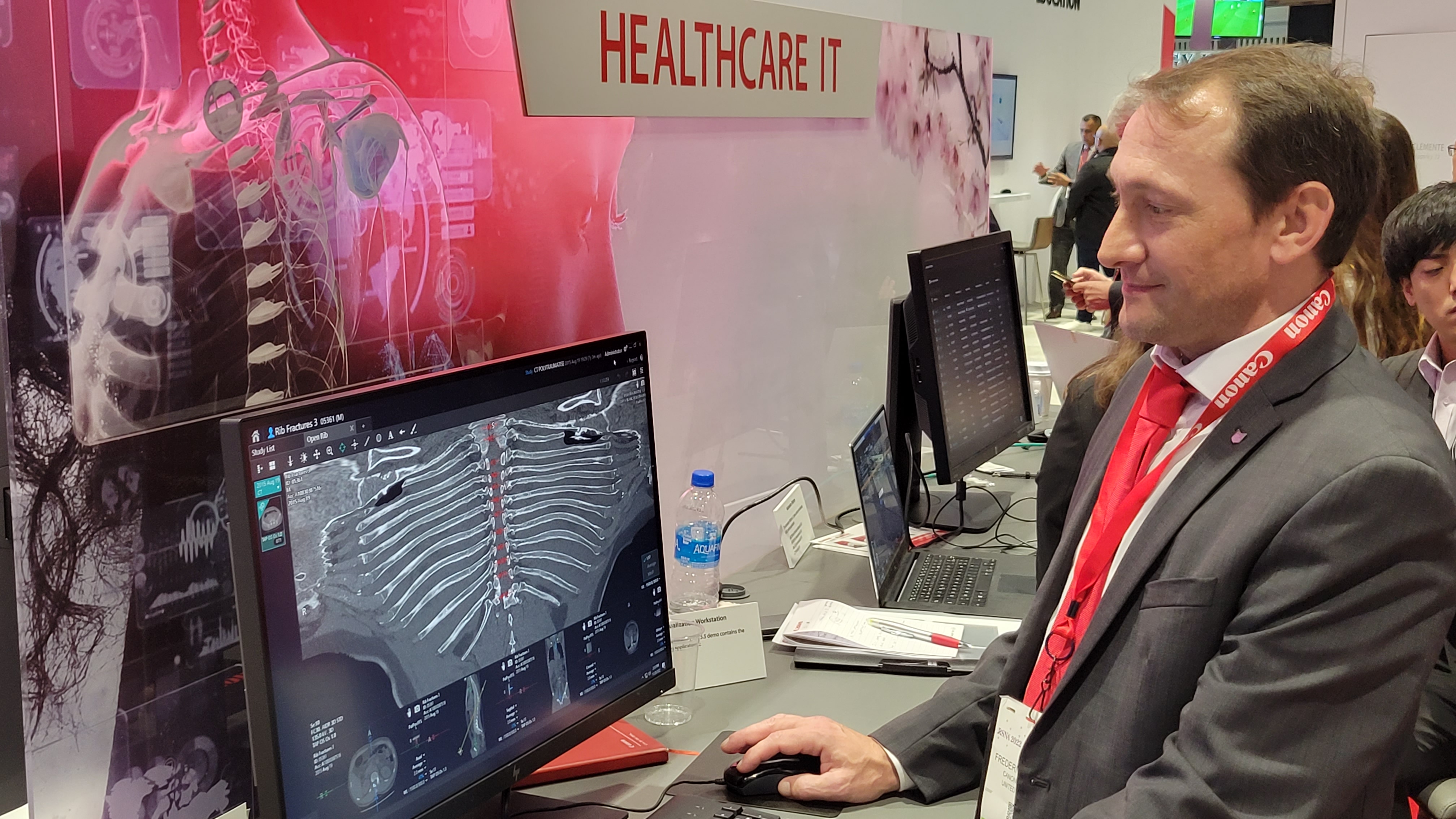 Canon is highlighting OpenRib, a new advanced
visualization tool that displays chest images with the
ribs in an unfolded format.
Innovation in artificial intelligence (A) is the focus in the CT area of Canon's booth, and the company is demonstrating the use of an AI-based data reconstruction protocol to improve the image quality of CT images. Called Precise IQ Engine (PIQE), the technology is designed to reconstruct CT images to target the super-high resolution found on Canon's Aquilion Precision scanner.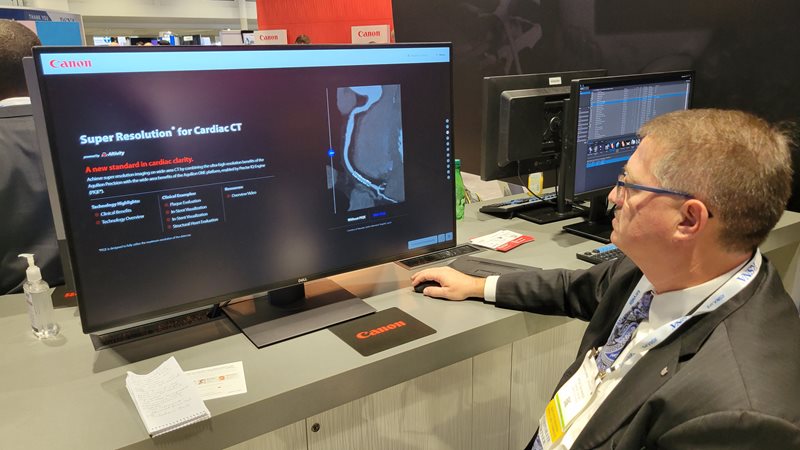 Canon is displaying images reconstructed with PIQE,
which produces extremely high-resolution CT images.
The PIQE algorithm was trained on images acquired with Aquilion Precision edition, which sports 0.25-mm detectors capable of acquiring images with extreme detail, resolving anatomy as small as 150 microns. The algorithm is then able to reconstruct images acquired with 0.5-mm detectors, and process them into images that look as though they were acquired with a 0.25-mm scanner. PIQE is currently available now.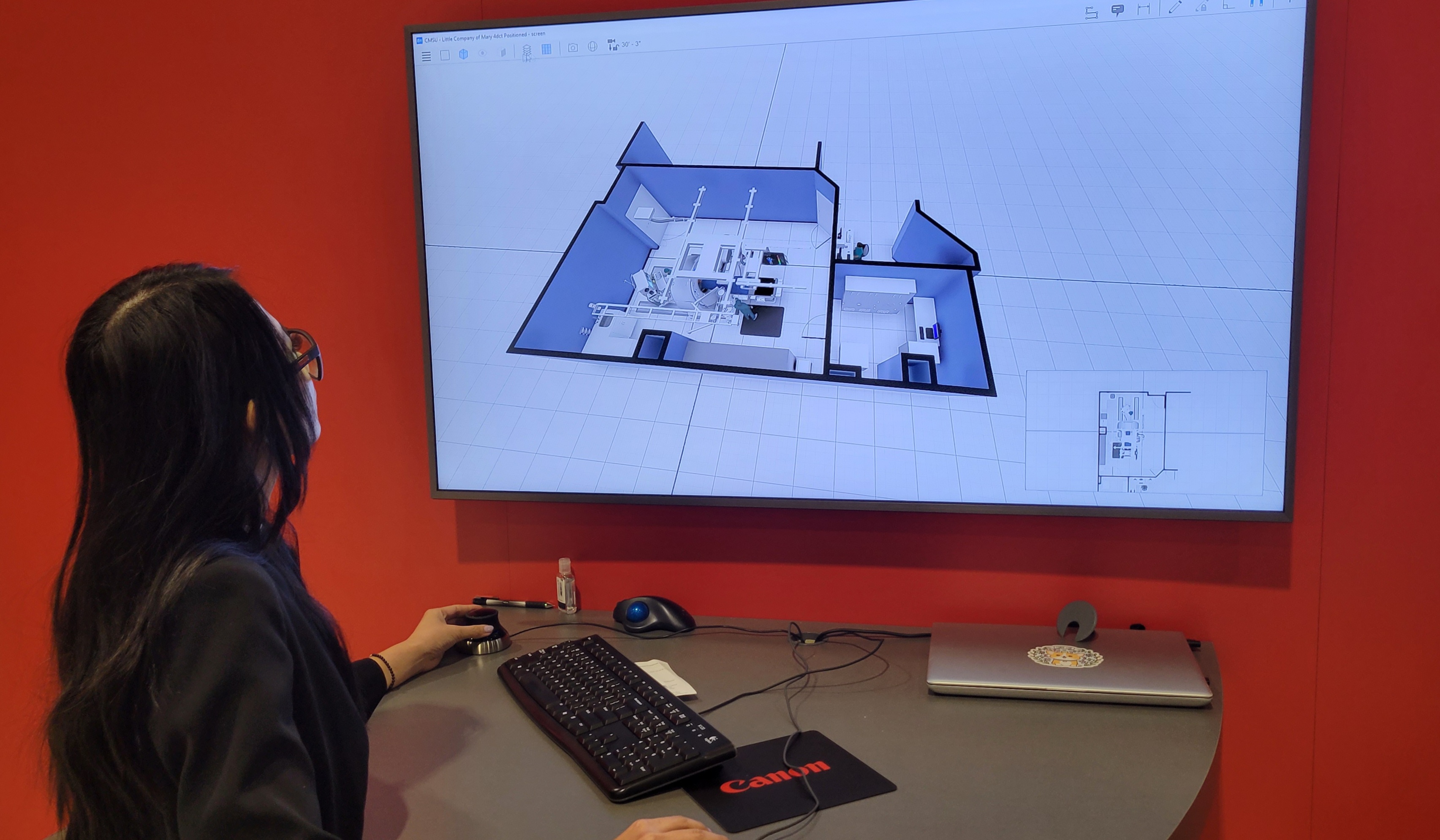 Canon is highlighting a computer-assisted design service
in which the company will help imaging facilities plan the
placement of new medical imaging scanners.
Photon-counting CT is the hot topic in the modality, and Canon is discussing its plans for the technology. Prior to RSNA 2022, Canon announced that its first photon-counting CT system is being installed at an institution in Japan, and at the conference the company further revealed that a second system will be installed soon in the U.S. market.
In MRI, Canon is announcing the launch of the SP configuration on both its 3-tesla Galan and 1.5-tesla Orian magnets. The configuration includes a gradient package rated at 45 mT/m maximum peaks and 200 mT/m/ms slew rate. SP also includes a Fast 3D acceleration package as well as scan planning automation with ForeSee View, which provides a real-time preview of the scan plan.
Also new with the SP package is a ceiling-mounted camera that can help MR technologists with patient orientation and landmarking. A tablet computer is also now available to "untether" technologists from the scanner console and improve workflow. Finally, Canon's Pianissimo noise-reduction technology is also available with the package, and the company's AiCE DLR deep-learning reconstruction comes standard on all SP configurations.
In healthcare IT, Canon is demonstrating its recent advances in enterprise imaging, artificial intelligence (AI), and advanced visualization. On the company's Vitrea 3D workstation, Canon is showing OpenRib, a new advanced visualization tool that displays chest images with the ribs in an unfolded format. A 510(k) application with the U.S. Food and Drug Administration is pending for OpenRib, which is included in version 7.15.5 of the Vitrea software.
Canon is also demonstrating a new automation technology for clinical applications like pulmonary embolism, brain occlusion, and large-vessel occlusion that's pending 510(k) clearance. With the platform, data from a Canon customer site is uploaded and processed to detect suspicious pathology, with notifications sent to physicians if necessary.
In vascular and interventional x-ray, Canon is highlighting the 30-year anniversary of the concept of a hybrid CT/interventional room, which combines a CT scanner with an angiography system for added flexibility in performing interventional procedures. In its RSNA booth, Canon is showcasing an Angio-CT hybrid room featuring an Aquilion One CT scanner with an Alphenix 4D CT Sky+ interventional system.
Canon also announced the integration of its Deep Learning Spectral CT reconstruction technique and HD 76 high-definition imaging. The HD 76 detector has more than twice the spatial resolution of conventional flat-panel digital detectors, which helps clinicians see fine details in complex interventional procedures.
The company is also discussing a 3D planning service for vascular rooms in which Canon representatives will help radiology sites plan for new installations using computer-aided design tools. Customers can alter the type of system being installed and change system configurations via computer software to see how an interventional system would fit in a room.