Hyperfine Offers Live Brain MRI Scans at RSNA 2022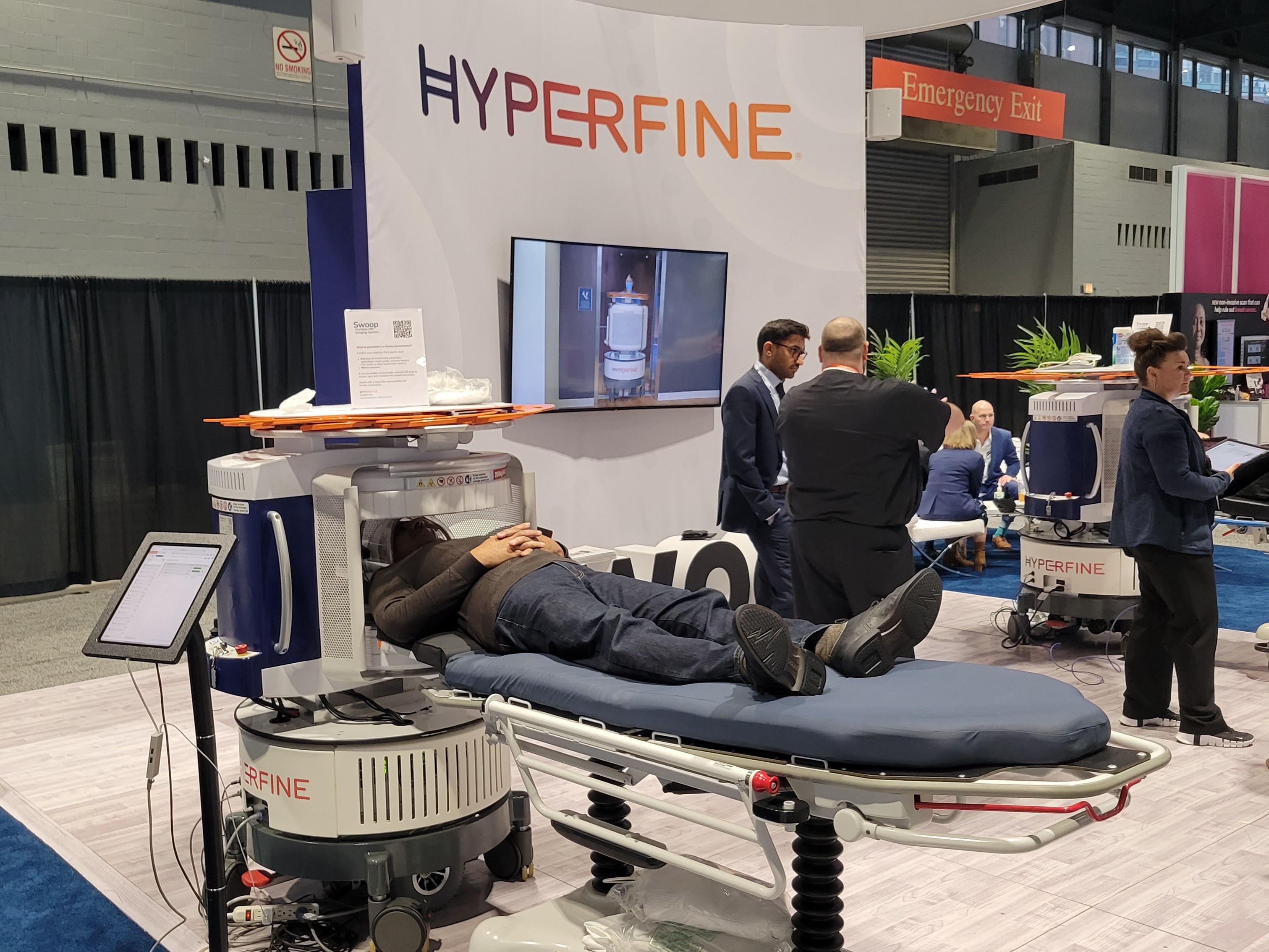 Portable MRI vendor Hyperfine is giving attendees at RSNA 2022 the opportunity to get their heads examined – literally. The company has two of its portable Swoop MRI magnets in its RSNA booth and is offering brain MRI exams to any RSNA attendee who fills out a release form.
The scans are a way of highlighting the flexibility and functionality of Swoop, a 0.064-tesla scanner on wheels that was cleared by the U.S. Food and Drug Administration for brain imaging in 2020. Swoop can be rolled to the patient's bedside to perform brain scans, and opens up a new paradigm in MRI technology, according to Dr. Khan Siddiqui, the company's chief medical officer and chief strategy officer.
Siddiqui sees Hyperfine as giving healthcare providers the option of using MRI for cases where it was never possible before due to access issues. Conventional MRI scanners are massive machines that require patients to be transported to the radiology department for exams. This can be difficult for many patients, in particular those in the intensive care unit (ICU).
By bringing the patient to the scanner, Swoop gives healthcare providers a new option in the imaging armamentarium, while also freeing up a facility's main scanner for outpatients that are usually easier to handle. By scanning just a single ICU patient at bedside, Swoop can free up three scanning slots for a department's conventional MRI magnet – helping sites meet rising demand for imaging.
Hyperfine has also worked with clinical sites on novel concepts like mounting Swoop in a cargo van for a scanner-on-wheels service that would improve imaging access in rural areas. A paper on one such project was published earlier in 2022 in Scientific Advances.
Siddiqui reported at RSNA 2022 that Hyperfine's technology has been featured in 60 abstracts and 40 complete published papers so far. Many of them address the use of the company's technology for stroke imaging, which mostly revolves around CT at present. But MRI can also offer valuable information if it's available, and rapid access to the modality can help healthcare providers select the most suitable therapy for stroke patients – thus saving precious brain tissue.
While the novelty of Swoop at first glance lies in its unique hardware, Siddiqui characterizes the scanner as a software-heavy device. The company has issued six new software releases this year, with steadily improving image quality, he said.
In particular, Hyperfine is working with developers of artificial intelligence (AI) software on algorithms for Swoop. For example, the company signed a deal with Viz.ai in July 2022 to enable that company's Viz LVO algorithm to analyze Swoop images. Viz LVO will detect signs of large vessel occlusion (LVO) and alert healthcare providers to emerging cases.
Hyperfine is now into the second year of its commercialization effort for Swoop, and the company has 100 units installed. The scanner is being sold in the U.S., Canada, Australia, and New Zealand, it just received marketing authorization for the U.K.
Related Articles
https://appliedradiology.com/communities/MR-Community/dr-chip-truwit-named-senior-medical-director-at-hyperfine
https://www.appliedradiology.com/communities/MR-Community/hyperfine-forms-medical-advisory-board
https://www.appliedradiology.com/communities/MR-Community/portable-mri-detects-brain-hemorrhage-with-high-accuracy