Hologic Showcases Comprehensive Breast Health Solutions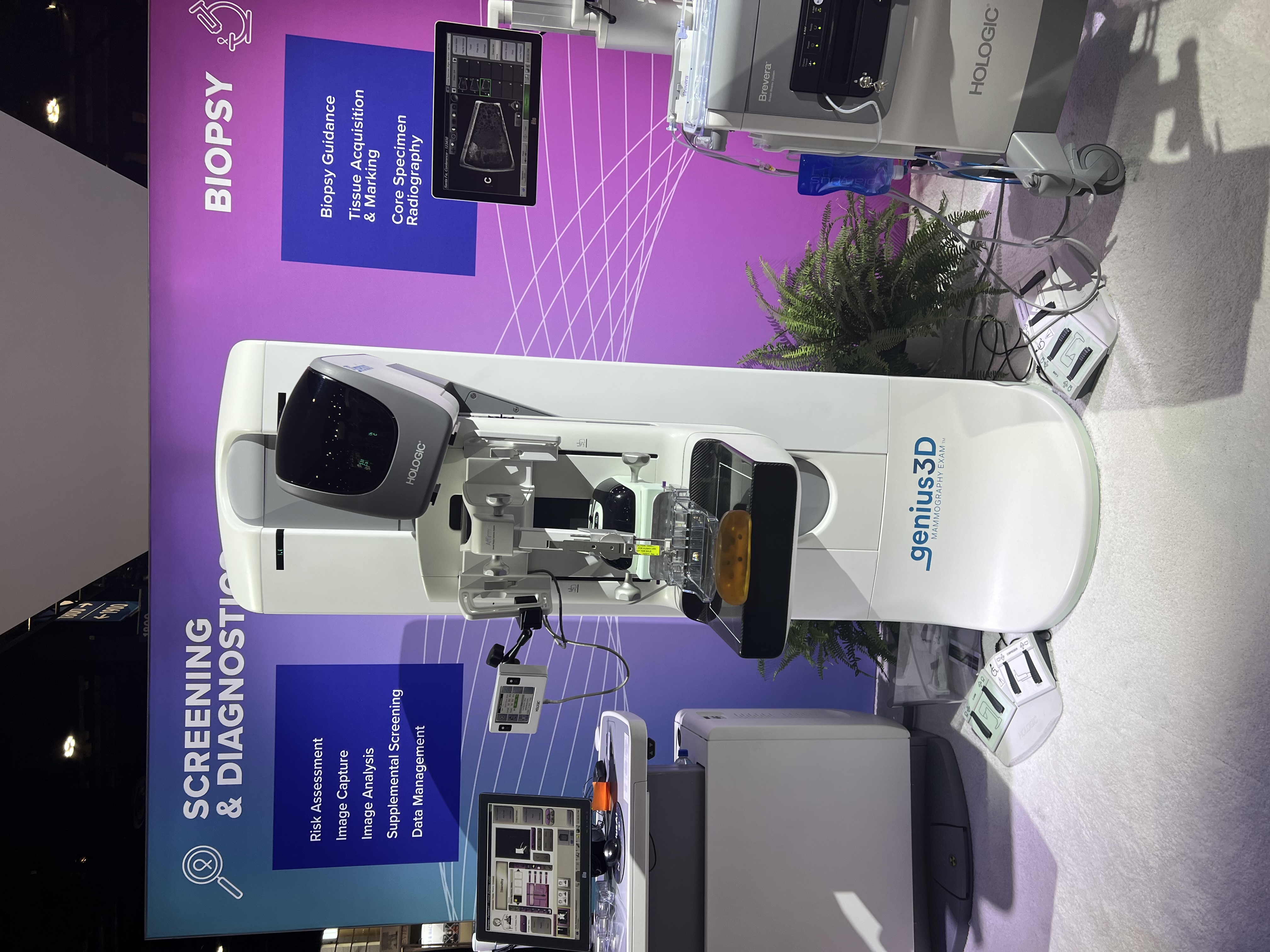 Hologic is exhibiting its extensive portfolio of breast and skeletal health products at RSNA 2022, from screening and diagnosis through treatment and monitoring solutions. Among the full suite of breast biopsy and surgery solutions is Hologic's Affirm Contrast Biopsy software, on display for the first time since becoming commercially available in the United States.
The software works with the Affirm Upright Breast Biopsy Guidance System, a simple add-on to any Hologic 3D Mammography capable system that enables quick 2D or 3D breast biopsies using the same imaging equipment as for mammography exams.
Affirm Contrast Biopsy software allows clinicians to target and acquire tissue samples in lesions identified with I-View Contrast-Enhanced Mammography software. The contrast solution provides healthcare facilities with a viable and attractive alternative to breast MRI, which historically has been used to find and biopsy more elusive lesions, such as those that cannot be seen via mammography or ultrasound. While breast MRI can be time-consuming and costly, contrast technology gives radiologists another option in the mammography suite that addresses these shortcomings.1,2
"Our technologies touch all parts of the breast healthcare journey, from early detection to biopsy to treatment. We're focused on reducing the time it takes to get through these steps because that will make it more likely that women will follow through on all of them. When it's easier to do everything faster, there's a higher likelihood for successful diagnosis and treatment," said Paola Wisner, Vice President, Global Research & Development.
In a recent clinical study, 98% of patients had an overall positive opinion of their procedure experience with Affirm Contrast Biopsy software.1 "Being able to offer contrast-enhanced biopsies is more convenient for patients and contributes to excellent patient satisfaction," added Wisner.
The company is also highlighting how the Brevera Breast Biopsy System further streamlines the entire breast biopsy process from start to finish – with real-time imaging for instant verification and automated post-biopsy specimen handling.
Wisner noted that a recent study indicated less than 12% of women globally had been screened for breast cancer during the COVID-19 pandemic. As a result, many mammography centers are now seeing an influx of patients scheduling screening. This increase in demand underscores the need for integrated, streamlined technologies that improve the patient and clinician experience. "We're focused on how to make the entire breast care journey easier for patients and clinicians. For us, it's all about getting women screened so we can detect breast cancer early and save more lives," said Wisner.
In addition to the Affirm Contrast Biopsy software, Hologic is featuring its Dimensions mammography portfolio and Supersonic MACH ultrasound systems. The company is also hosting a series of CME- and non-CME-accredited medical education symposiums and learning opportunities, accessible to attendees on-site and from remote locations.
RSNA Booth: 1911
Publication for reference: Kaur, Piccolo, Arasaratnam. Implementation of Contrast-Enhanced Mammography in Clinical Practice, chapter 7, Nori, Kaur (eds.), Contrast-Enhanced Digital Mammography (CEDM). Springer, 2018.
Hobbs MM, Taylor DB, Buzynski S, and Peake RE. Contrast-enhanced spectral mammography (CESM) and contrast MRI (CEMRI): Patient preferences and tolerance. Journal of Medical Imaging and Radiation Oncology. 2015;59:300-305