Hologic Highlights Contrast Breast Biopsy Technology at RSNA 2022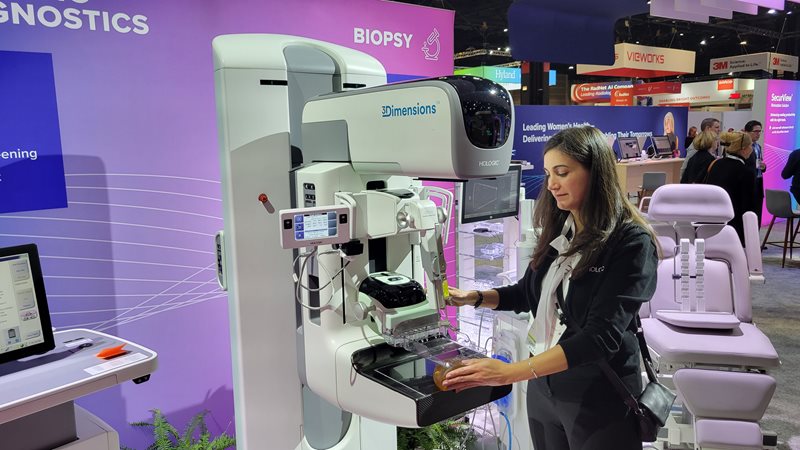 Hologic highlighted its Affirm Contrast Biopsy software at
RSNA 2022. The software enables clinicians to perform
contrast-guided biopsy procedures on the company's
mammography systems.
A new software application that enables clinicians to perform biopsies of suspicious areas identified on contrast-enhanced mammography examinations was a highlight in the RSNA 2022 booth of women's imaging vendor Hologic.
Hologic's Affirm Contrast Biopsy software enables clinicians to target and acquire samples of breast tissue in lesions identified with the company's I-View Contrast-Enhanced Mammography software. At RSNA 2022, Hologic demonstrated the integrated applications on one of its 3Dimensions digital breast tomosynthesis mammography systems.
Clinicians are turning to contrast-enhanced mammography as a tool for working up suspicious lesions first identified on screening mammograms. Breast MRI has long been used for this application, but MRI scans are expensive and time consuming, while contrast mammography and biopsy can be performed on the same systems used for breast screening.
Indeed, at RSNA 2022 Hologic highlighted the results of a recent clinical study finding that 98% of patients had an overall positive opinion of their experience with Affirm Contrast Biopsy software.
The software works with the company's Affirm breast biopsy guidance device, which can be added to any Hologic mammography system capable of performing 3D mammography.
Other RSNA highlights for Hologic included the company's Dimensions portfolio of mammography systems, Genius AI software for analyzing mammograms with artificial intelligence, and Supersonic MACH ultrasound scanners.