Guidelines Issued for Use of CT in Hybrid Nuclear-CT Cardiac Imaging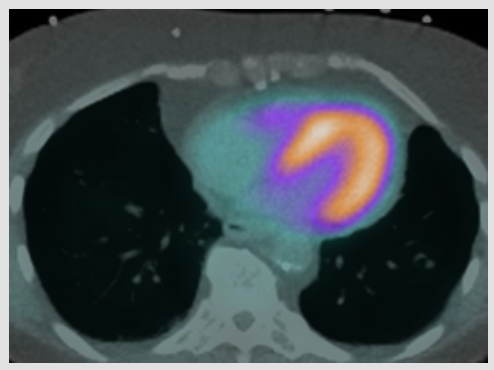 The American Society of Nuclear Cardiology (ASNC), American Association of Physicists in Medicine (AAPM), Society of Cardiovascular Computed Tomography (SCCT) and the Society of Nuclear Medicine and Molecular Imaging (SNMMI) issued a new multisociety guideline regarding the use of SPECT/CT and PET/CT imaging with attenuation correction, localization of radiotracer uptake and coronary artery calcium scoring (CACS).
Published in the Journal of Nuclear Cardiology, the new guideline highlights how SPECT/CT and PET/CT testing improve diagnostic accuracy and risk-stratification in patients with known or suspected coronary artery disease as well as the clinical value of hybrid nuclear-CT imaging in assessing infection, inflammation, viability and hibernation in cardiac patients. The organizations recommend training and competency requirements for imaging physicians and technologists; describe models for collaborative, cross-specialty study interpretation and reporting; and suggest solutions for the preauthorization and reimbursement challenges that some labs have faced with hybrid imaging in nuclear cardiology.
"Hybrid imaging is helping cardiology teams enhance image quality and obtain new information that impact treatment decisions and our patients' long-term outcomes," says ASNC President-elect Mouaz H. Al-Mallah, MD, MSc, FASNC, cardiac PET chair at Houston Methodist DeBakey Heart and Vascular Center and the new guideline's lead author. "Assessing atherosclerosis burden in hybrid imaging improves the diagnostic accuracy of MPI studies and help clinicians identify high-risk patients and treat them accordingly. The question is not whether today's cardiac imaging labs should adopt hybrid imaging but rather how to adapt their labs for the routine use of SPECT/CT and PET/CT. There are practical day-to-day issues that can become obstacles for labs. We developed this guideline to show the options available for managing the practical issues, thus making hybrid nuclear-CT imaging more accessible for patients who will benefit from it."
Imaging teams will find the new guideline is a blueprint for modernizing their labs for the delivery of hybrid nuclear-CT imaging. The guideline provides detailed discussion, tables and figures on the following topics:
Hardware, software and image acquisition requirements
Quality control issues, including a list of artifacts that imaging professionals must understand to ensure proper study interpretation and avoid unnecessarily repeated tests
Four study interpretation models that imagers may choose from to ensure the high-quality reading and reporting of extracardiac findings from CT scans performed during hybrid imaging
How to approach standardized integrated hybrid nuclear-CT reports, including the key cardiovascular diagnosis and non-cardiovascular incidental findings that should be reported
Current training and licensing requirements and certification standards for technologists and physicians
Recommendations for competency standards, including necessary skillsets, continuing education credits and case volumes
Coding and billing requirements and how to resolve common preauthorization challenges