Guerbet Showcases New Elucirem GBCA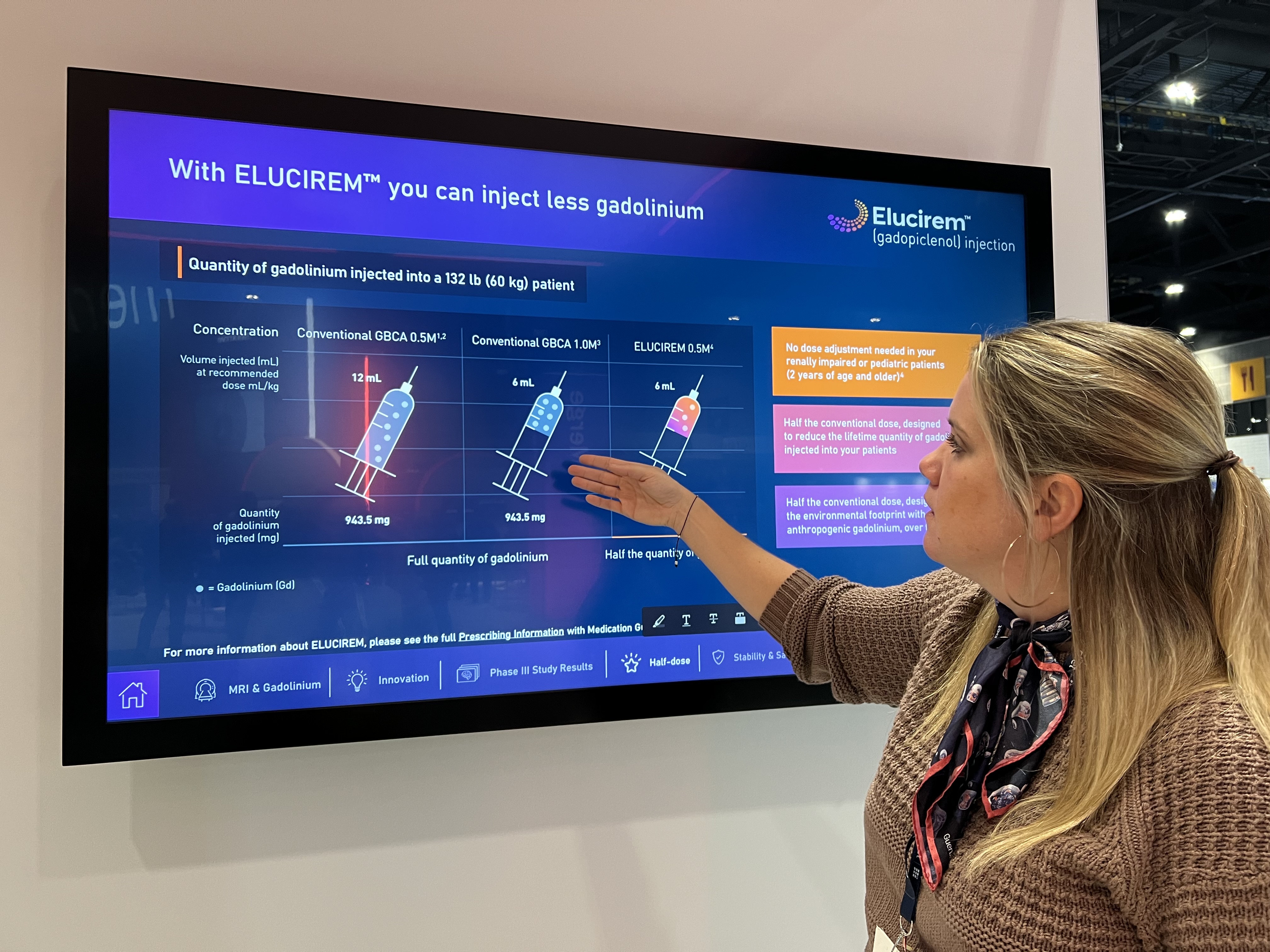 At RSNA this year, Guerbet is featuring its new Elucirem (gadopiclenol) injection, the company's first high-relaxivity macrocyclic gadolinium-based contrast agent (GBCA) designed to reveal high-quality images at half the conventional gadolinium dose.1
"Elucirem offers higher relativity at half the dose, which means clinicians can reduce the dose of gadolinium to the patient yet still get the enhancement they need. There's a lot of excitement around how it could change the practice of contrast delivery," said Jamie Kulow, MRI Modality Marketing Manager.
Developed by Guerbet's Research & Development team, Gadopiclenol is an investigational macrocyclic gadolinium-based contrast agent with high relaxivity indicated for use in adults and children aged two years and older, for contrast-enhanced magnetic resonance imaging (MRI). The product is used to detect and visualize lesions with abnormal vascularity in the central nervous system (brain, spine and associated tissues) and the body (head and neck, thorax, abdomen, pelvis, and musculoskeletal system).
Gadopiclenol, the active substance of Elucirem, has been designed with two sites for water molecule exchange to increase relaxivity and contrast, allowing to use it at half the conventional dose of gadolinium compared to other non-specific GBCAs. "The additional water molecules increase relaxivity, while delivering the same high image quality that radiologists expect," said Kulow.
The FDA is the first health authority to have approved Elucirem. It is currently in the process of examination by the European Medicines Agency via a centralized procedure.
The approval was primarily based on data from two Phase III studies completed in March 2021 that demonstrated that Elucirem leads to non-inferior results in brain and body MRI at half the gadolinium dose of Gadobutrol.2,3 The endpoints were met in terms of the diagnostic benefit of injecting Gadopiclenol (0.05 mmol/kg) during MRI examinations, based on two criteria. First, the superiority of the examination with Gadopiclenol compared to the examination with no contrast agent; and, second, the non-inferiority of Gadopiclenol (0.05 mmol/kg) compared to Gadobutrol (0.1 mmol/kg) for the visualization and detection of lesions of the central nervous system and in the other anatomical areas studied. No major safety signals were reported during the development of Gadopiclenol, and the adverse reactions reported during the two-Phase III studies were similar for both products administered.
The production of Gadopiclenol will take place at one Guerbet's US and at three French plants.
The company is also highlighting Dose&Care, a digital solution to monitor patients' exposure to radiation, and Contrast&Care, a contrast media injection management solution that enables imaging centers to collect, archive, examine and share data directly with Guerbet's injectors.
RSNA Booth: 1171
Elucirem [package insert]. Princeton, NJ: Guerbet LLC; 2022
https://www.clinicaltrials.gov/ct2/show/NCT03996447?term=Gadopiclénol&draw=2&rank=2
https://www.clinicaltrials.gov/ct2/show/NCT03986138?term=Gadopiclénol&draw=2&rank=1