First Surgeries Performed with Intraoperative 3D Imaging System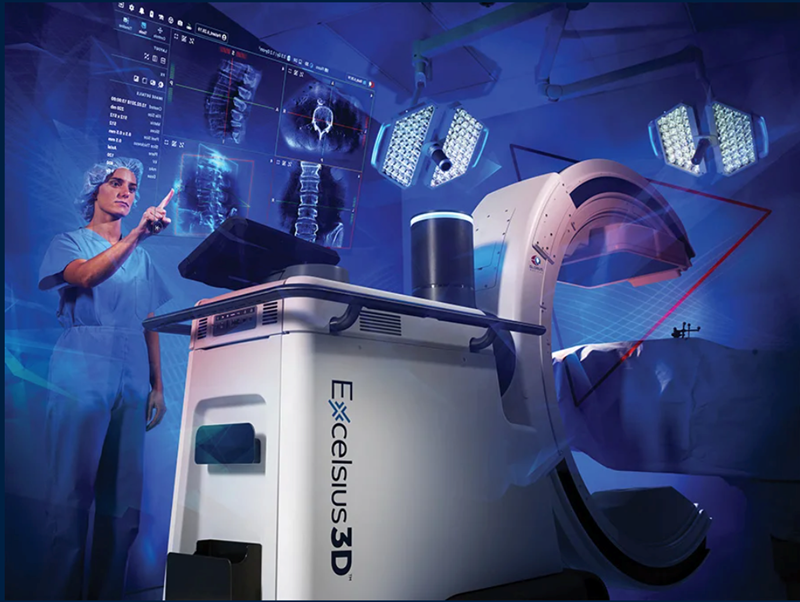 Globus Medical announced the first surgeries performed at three hospitals with the Excelsius3D, an intelligent, intraoperative 3-in-1 imaging platform. Paul C McAfee, MD, MBA and Mesfin A Lemma, MD at MedStar Union Memorial Hospital, Roland Kent, MD at Northwest Specialty Hospital, and Jeffrey A Goldstein, MD at NYU Langone Health, each performed the first clinical cases using Excelsius3D with ExcelsiusGPS.
Dr Lemma, Division Chief of Spine Surgery and Director of Minimally Invasive Spine Surgery at MedStar Union Memorial Hospital believes "the Excelsius Ecosystem can help us provide patients with minimally invasive treatment options. We are excited about the addition of the new Excelsius3D imaging system to our ExcelsiusGPS robotic navigation platform at MedStar Union Memorial Hospital."
"With these two technologies, we are able to efficiently perform surgery with minimally invasive techniques. The seamless interface between the two platforms allows us to provide the best leading-edge technology to patients," added Dr McAfee, Orthopedic Spine Surgeon at MedStar Union Memorial Hospital.
Dr Kent, founder of Axis Spine and surgeon at Northwest Specialty Hospital, added, "we are very proud to feature some of the most advanced surgical spine solutions in the nation. We have performed over 700 cases with ExcelsiusGPS and are now excited to add Excelsius3D to provide our patients with more efficient surgical solutions that have the potential to further improve surgical outcomes."
Dr Goldstein, Director of Education, Division of Spine Surgery and Director of the Spine Surgery Fellowship at NYU Langone Health, stated, "the addition of Excelsius3D to our operating room has helped to streamline our navigation workflow with ExcelsiusGPS. The intraoperative imaging technology enables us to efficiently visualize anatomy, offers three imaging modes in a single comprehensive system, and is easy for our radiology technicians to maneuver and position. We're excited about this new tool to help us provide patients with the best possible care."
Excelsius3D is a mobile X-ray system designed for 2D fluoroscopy, 2D digital radiography, and 3D imaging of adult and pediatric patients. The system is indicated for use where a physician benefits from 2D and 3D information on anatomic structures and high contrast objects with high x-ray attenuation such as bony anatomy and metallic objects. Excelsius3D images are compatible with image guided systems such as ExcelsiusGPS.
Excelsius3D combined with the ExcelsiusGPS robotic navigation system provides a superior intraoperative, image-guided robotic navigation solution, and is designed to improve implant placement accuracy, lower radiation exposure, and shorten operative times. Excelsius3D is now commercially available in the US.