First Paper Published on European Consensus for MCI, Mild Dementia Diagnosis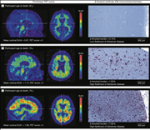 The EANM, represented by Silvia Morbelli and Valentina Garibotto from the Neuroimaging Committee, announced it is taking part in a European Inter-Societal Consensus initiative aimed at defining a workflow for the use of biomarkers in the etiological diagnosis of neurocognitive disorders in MCI and mild dementia stages. The task force, encompassing eleven European scientific societies, used the Delphi consensus and a systematic literature review to define the final workflow, which was agreed upon in June. The first paper describing the preparatory phase of the consensus has now been published.
Currently, the use of biomarkers in neurocognitive disorders lacks consensus in Europe. Festari et al describes the preparatory phase and preliminary results of a European Delphi consensus for the biomarker-based etiological diagnosis of neurocognitive disorders of middle-old age at MCI-mild dementia stages. These include panelists' selection, literature review, and definition of the appropriate clinical context for the workflow use.
The goal of the task force is to "define the first diagnostic workflow on the rational use of biomarkers for the etiological definition of neurocognitive disorders, moving from the patient's clinical profile and disregarding logistic factors."