ECR 2023: Back to Normalcy After Years of Disruptions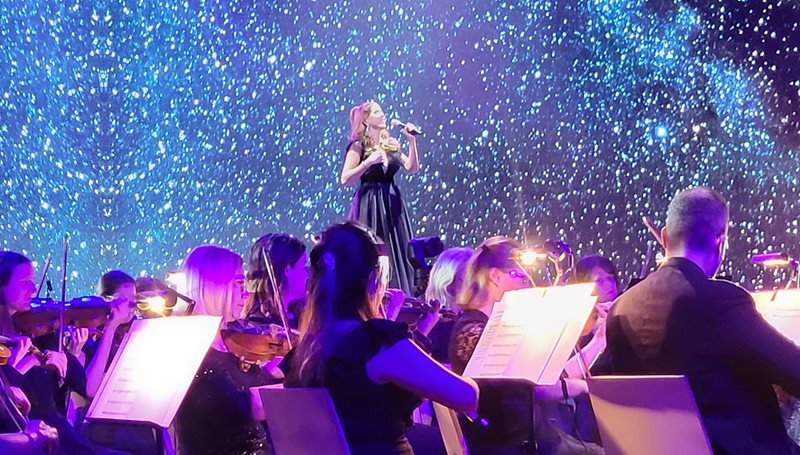 VIENNA, AUSTRIA - "I wouldn't change a thing." After four years of disruptions due to the COVID-19 pandemic, two conferences held exclusively online, and a foray into a widely planned summer meeting, organizers of the 2023 European Congress of Radiology (ECR) announced that the conference was back, both literally and metaphorically.
In a stunning opening ceremony, ECR 2023 President Dr Adrian Brady of Cork, Ireland, acknowledged the challenges that the conference – and radiology – have faced over the past four years. He expressed thanks to attendees for their forbearance in putting up with its twists and turns, while also acknowledging those who the radiology profession has lost over the years.
And in a final performance that may or may not have been intended to answer its critics, singer Kimberly Rydell belted out an original tune composed specifically for the conference, titled "I Wouldn't Change a Thing," accompanied by a full orchestra.
A Unifying Force for Radiology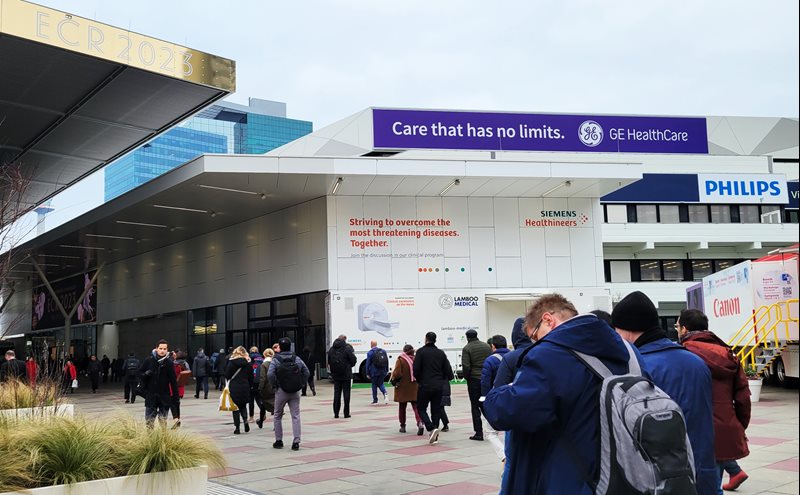 Up to the COVID-19 pandemic, the European Society of Radiology (ESR) held ECR annually in Vienna without disruption since 1999; prior to that, the meeting had been held biannually since 1991. The congress has been a unifying force for radiology on a continent divided by language and national borders, helping radiologists reach out to their brethren in other countries to create relationships that have spanned decades.
That all changed in March 2020, when conference organizers were forced to cancel the meeting last minute due to concerns it could turn into a super-spreader event for health care personnel who were badly needed on the front lines of the pandemic. An in-person congress was also canceled in 2021, and it wasn't until July 2022 that the event resumed in person.
But the summer timeframe of ECR 2022 conflicted with vacations for many attendees. Attendance plummeted, and based on feedback from attendees and exhibitors, ESR returned to its traditional time of early March.
It's a welcome decision. At this week's meeting, attendance seems to have bounced back compared with July 2022, and while not perhaps at the level set in 2019, presentation rooms and exhibit booths at Austria Center Vienna are crowded.
Radiology vendors have also returned to using ECR as a showcase for new product launches. The first day of ECR 2023 saw new scanners debuted by Canon Medical System, Siemens Healthineers, Planmed, Esaote, United Imaging Healthcare, and more.
As at RSNA, artificial intelligence (AI) is a major highlight. But in a European wrinkle, many talks have focused on the ethical implications of AI, such as a March 1 discussion of the social implications of AI technology and its impact on patients and radiologists.
Sustainability has also emerged as a major theme at ECR 2023. Higher energy prices caused by the Russian invasion of Ukraine have affected European hospitals acutely, and both vendors and healthcare providers have a vested interest in operating more efficiently, particularly for energy-intensive modalities such as MRI.
In these cases, technologies like AI can help enable imaging facilities to scan with imaging protocols that require less energy while employing machine learning-based data reconstruction techniques that boost image quality to where it's indistinguishable from more energy-intensive protocols.
Opening Ceremony Sets the Tone
Historically, ECR's opening ceremony has set the tone for the meeting. The event blends culture, science, and society business, distinguishing it from other conferences. The theme is set by the conference president, reflecting interests, music, and heritage of the individual's country.
Dr Brady, ECR 2023 president, took advantage of the opportunity to highlight his native Ireland culture. Singer Kimberly Rydell opened with an atmospheric cover of "Dreams" from Limerick new wave band The Cranberries, traditional Irish musicians accompanied the orchestra to provide musical interludes, and Brady himself opened his talk with a salutation in Gaelic.
He tackled the disruption of the past few years head-on, acknowledging the meeting's return to normality, but also thanking presidents of past congresses – as well as ESR members and staff – for their resilience.
Brady focused much of his address on radiology trainees and early career radiologists, and noted that content at ECR 2023 examines broader issues such as work-life balance; career development; mentoring; and diversity, equity, and inclusion. He also offered several pieces of advice well-suited for challenging times:
Don't expect to be perfect in everything you do. Accept human imperfection and try to learn from it, he advised. Above all, be kind to yourself when you fail or get something wrong, and be kind to your colleagues when you discover their imperfections. "Some day, when the shoe is on the other foot, you'll need their kindness," he noted.
Don't expect to be practicing radiology in 10 years the same way you are today. Radiology is a rapidly changing specialty, and much of what trainees learn now will be redundant or outdated by the middle or end of their careers. As an example, he noted how in the 1989 Tour de France American cyclist Greg LeMond made a stunning comeback to beat French champion Laurent Fignon using new technologies such as an aerodynamic helmet and triathlon handlebars. "Technical innovation … if embraced in the right way at the right time, can lead to huge leaps in human endeavor. Thus it is with radiology."
Be conscious of the buffeting influence of change early – adapt, don't fight. He noted how the COVID pandemic has accelerated distance between radiologists, patients and referring providers. Radiologists should avoid the temptation to categorize themselves as chained to a workstation in a closed room, and should not ignore that other specialties can also employ new technologies like AI. "If you want to have a job in 10 years, talk to your referrers and talk to your patients," he urged.
The opening ceremony then progressed through the traditional awarding of honorary memberships and gold medals. One recipient was Dr. Lorenzo Derchi of Italy, who was ECR president in 2019 when the last pre-pandemic congress was held. He acknowledged difficulties faced by COVID-era conference organizers over the past several years, stating that in spite of everything, the group made the right decisions.
The curtain fell with Rydell's rousing clapback, "I Wouldn't Change a Thing." As ECR returns to normalcy, and the pandemic receding into the rear-view mirror, it was a sentiment many undoubtedly shared.