EchoNous Launches Low-Cost POCUS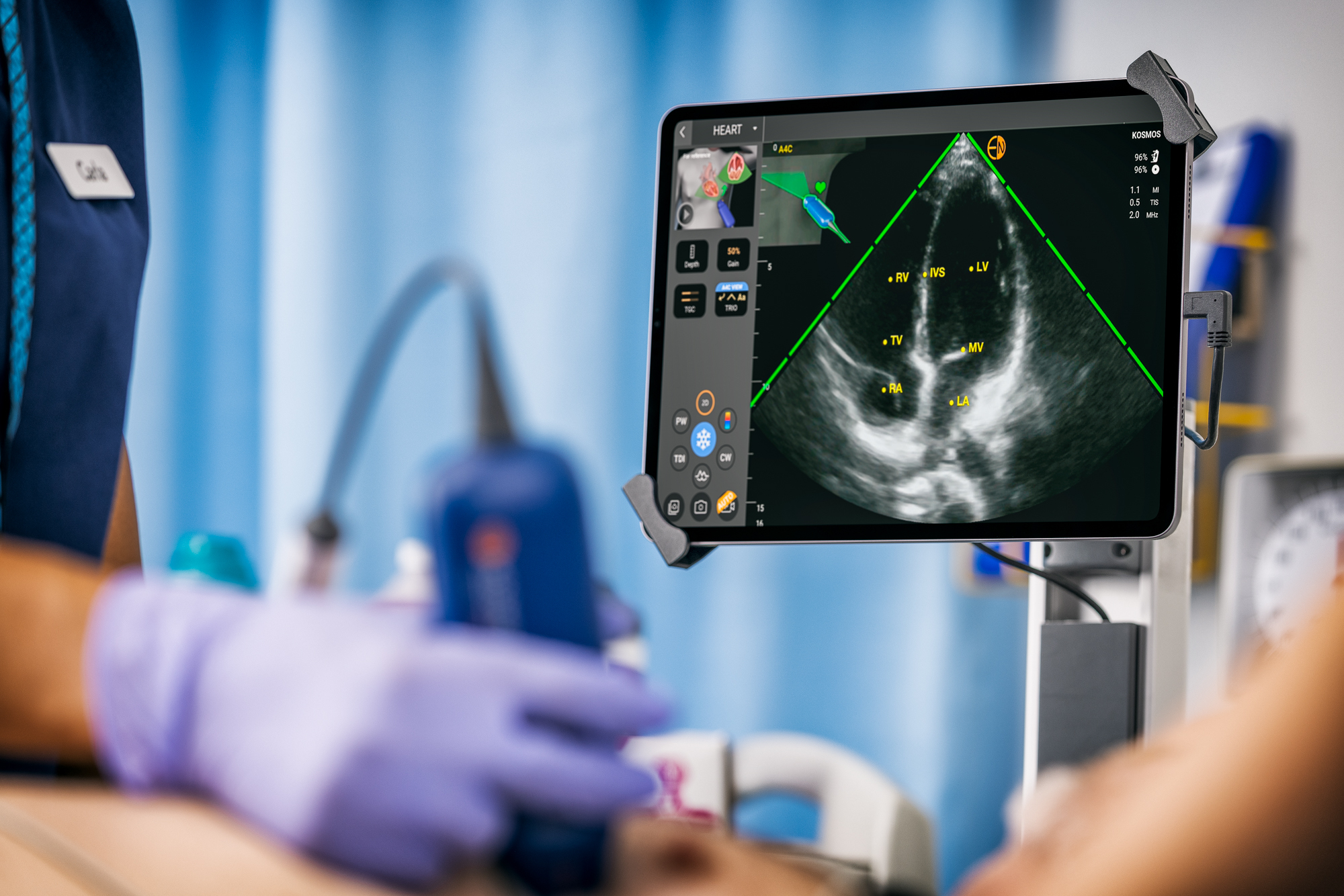 EchoNous unveiled Kosmos Plus, its latest innovation designed to replace costly POCUS carts. Kosmos Plus offers a comprehensive, two-plus probe ultrasound imaging solution for less than $20,000 in a marketplace where comparable systems cost twice as much or more.
Integrating a suite of advanced capabilities, including cutting-edge AI, advanced Doppler features, various transducers, a 12.9-inch iPad Pro display, and a medical-grade stand, this turnkey solution is poised to revolutionize the POCUS landscape. Now, clinicians will have the advanced capabilities of a full-featured POCUS cart at a fraction of the cost.
"In the ED, 90% of our POCUS exams are abdominal, lung, cardiac or guided vascular access procedures," said Dr. Mark Favot, Associate Professor at Wayne State University and Director of Emergency Medicine Ultrasound Education at Sinai-Grace Hospital/Detroit Medical Center. "Not only can the Kosmos transducers and features easily satisfy those needs, but the AI on the system provides additional assistance for novice users and helps improve our efficiency when it comes to quickly calculating an ejection fraction," Favot continued.
Kosmos Plus is embedded with EchoNous' AI features, including Trio, which simplifies cardiac examination with AI-driven guidance, grading, and labeling. AI FAST and the AI-assisted EF Workflow further streamline the imaging process, offering AI-driven anatomical labeling, view identification, ejection fraction, and stroke volume calculations. These integrated AI capabilities are designed to augment clinical decisions, ensuring high precision and efficiency in patient care.
The introduction of Color Doppler, PW, TDI, and CW Doppler to Kosmos Plus enhances the clinician's ability to perform comprehensive vascular and cardiac assessments. These features, coupled with the system's flexibility and ease of use, solidify EchoNous' commitment to providing cutting-edge tools that advance the field of ultrasound diagnostics.
EchoNous has meticulously crafted Kosmos Plus to meet the varying needs of point-of-care clinicians. With all components provided in one package, there's no need to secure different elements from multiple suppliers: everything is in one box and ready to go. With flexible probe configurations, including Torso-One, Lexsa or both, and the ability to connect both probes simultaneously and charge while scanning, clinicians can tailor their workflow and diagnostic approach to patient needs. The Kosmos Medical-Grade Stand ensures mobility and readiness while also demonstrating EchoNous' dedication to creating solutions as practical as they are powerful.
EchoNous' CEO Graham Cox remarks on the launch. "With Kosmos Plus, we're not just delivering a product; we're enhancing the entire ecosystem of point-of-care diagnostics. Our relentless drive for innovation and refusal to compromise on quality culminates in this significant milestone. Kosmos Plus represents a leap forward in our mission to make POCUS more capable, accessible, and intuitive for every clinician."