Clarius and Trice Medical Partner to Integrate Orthopedic Platform with Handheld Ultrasound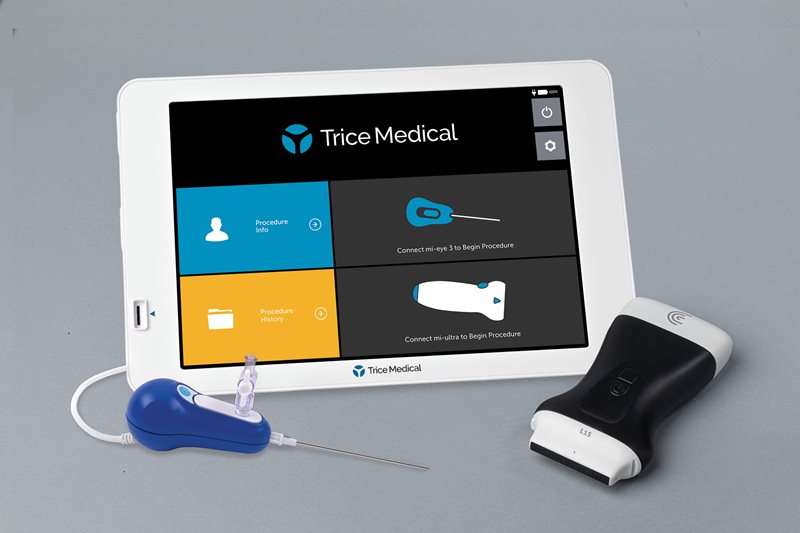 Clarius Mobile Health and Trice Medical are partnering to deliver a next generation, world's first high-definition wireless ultrasound and a single-use handheld arthroscope on one tablet.
"As an orthopedist, my goal is to maximize my patients' quality of life and minimize their disability in the safest and least invasive way; the ability to see clearly into the body is key to achieving the best results," says Dr. Don Buford, a board-certified orthopedic surgeon specializing in sports medicine and regenerative medicine. "I simply cannot wait to be able to image the Trice needle arthroscope alongside the third-generation Clarius wireless ultrasound transducers in my practice on the same tablet. This is a partnership that will make any orthopedic clinician stop and say 'wow, that is really cool.'"
Scheduled for release in early 2023, the new high-definition mi-ultra platform, powered by Clarius, will offer physicians two clear ways to dynamically evaluate the anatomy in diverse care settings. It combines mi-eye 3, the world's first FDA-cleared single-use 25° arthroscope with Clarius high- definition ultrasound, making them accessible through a single premier tablet.
"Our partnership with Clarius helps us take our mi-ultra platform to the next level of performance," says Mark Foster, President and CEO of Trice Medical. "We're excited about combining our single- use needle scopes with the best handheld ultrasound solution available on one simple, portable tablet. This is the imaging platform of the future, designed to enable therapeutic extremities procedures to be done in cost effective sites of service. Longer orthopedic procedures should be in the main operating rooms, but any procedure that takes longer to turn over the room than it does to complete the procedure is perfect for our platform."
Clarius handheld wireless ultrasound scanners deliver high-resolution ultrasound images traditionally only available with bulkier, high-end systems at a fraction of the cost. The new Trice solution will be available with the Clarius L15 HD3, Clarius L20 HD3, L7 HD3 and the C3 HD3 scanners. Clarius is the only ultrasound company with an open software platform that enables easy integration with compatible medical innovations.
"We're delighted that the Trice Medical team has chosen to integrate their ground-breaking arthroscope with Clarius high-definition wireless ultrasound," says Ohad Arazi, CEO at Clarius Mobile Health. "By combining our efforts, we can bring innovations that deliver better patient care to market sooner."