Cincinnati Children's, Eyas Medical Team up on NICU-based MRI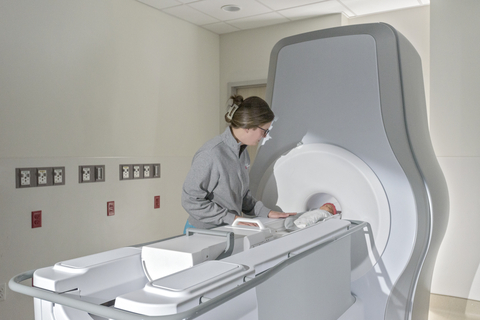 Eyas Medical has installed its works-in-progress Ascent3T in the neonatal intensive care unit (NICU) at Cincinnati Children's Hospital Medical Center to conduct research studies with the intent to use the data to apply to the FDA for 510(k) clearance in the near future.
The Ascent3T utilizes a 3 Tesla (3T) magnet, providing a magnetic field strength previously unavailable in neonatal MRI systems. A 3T magnet enables a more comprehensive and precise diagnostic tool, providing healthcare professionals with detailed imaging of vital organs, including the brain, lungs, heart, and abdomen. A 3T MRI system offers unmatched accuracy in neonatal diagnostics, paving the way for enhanced treatment plans and improved patient outcomes for vulnerable infants.
The Ascent3T allows for direct installation within the neonatal unit, eliminating the risk of transporting fragile newborns to alternate MRI locations within the hospital. Its compact footprint and innovative engineering are designed specifically for infant anatomy.
Conceived by MR physicist Charles Dumoulin, PhD, a professor of Pediatrics and Radiology at Cincinnati Children's, this innovation represents a significant advancement in neonatal imaging and is set to transform the way healthcare professionals evaluate newborns. He expressed his excitement, stating, "The Ascent3T brings an unprecedented level of MR imaging and access to our smallest patients. By reinventing MRI technology, doctors can now visualize and understand neonatal health conditions using state-of-the-art MR imaging tailored to infants. It is a tremendous opportunity for better-informed medical decisions and improved neonatal care." Dr. Dumoulin is the founder and CTO of Eyas and has a financial interest in the success of this project.
Abram Gordon, who serves as vice president of Cincinnati Children's Innovation Ventures, which focuses on technology transfer and commercialization, added: "This is a significant technological advancement for our most vulnerable patients and validates the high level of innovation and problem-solving happening right here in Cincinnati. This new MRI solution is a direct output from Cincinnati Children's and further evidence of the incredible people and ideas generated here in our region."
"Eyas is the product of an international collaboration anchored by world-class innovation from Cincinnati Children's and support from Ohio's innovation ecosystem, including funding from the JobsOhio Growth Capital Fund," said JP Nauseef, JobsOhio President and CEO. "The potential for this technology - conceived, developed, and manufactured in Ohio - to improve neonatal care worldwide is another example of Ohio's momentum in research commercialization."
Matt Storer, Executive in Residence for CincyTech and prior executive with Procter & Gamble, will take over as CEO for Eyas Medical Imaging to lead the next phase for the company, including their 510(k) submission to the FDA. CincyTech led the seed-stage financing for Eyas, helping bring this innovative technology to life. Matt has been part of the Eyas management team during the past year, driving pre-commercialization activities and fundraising efforts. He stated, "It's an honor to work with a team that has dedicated their careers to saving babies' lives. As a long-time resident of Greater Cincinnati, it's exciting to see the level of innovation emerging from our area. I'm looking forward to helping Eyas Medical Imaging with its next phase of growth."
As the first health system to install the Ascent3T, Cincinnati Children's continues its legacy as an innovative leader in pediatric healthcare.