Celebrating the First Clinical Administration of Elucirem™ (Gadopiclenol) Injection for MRI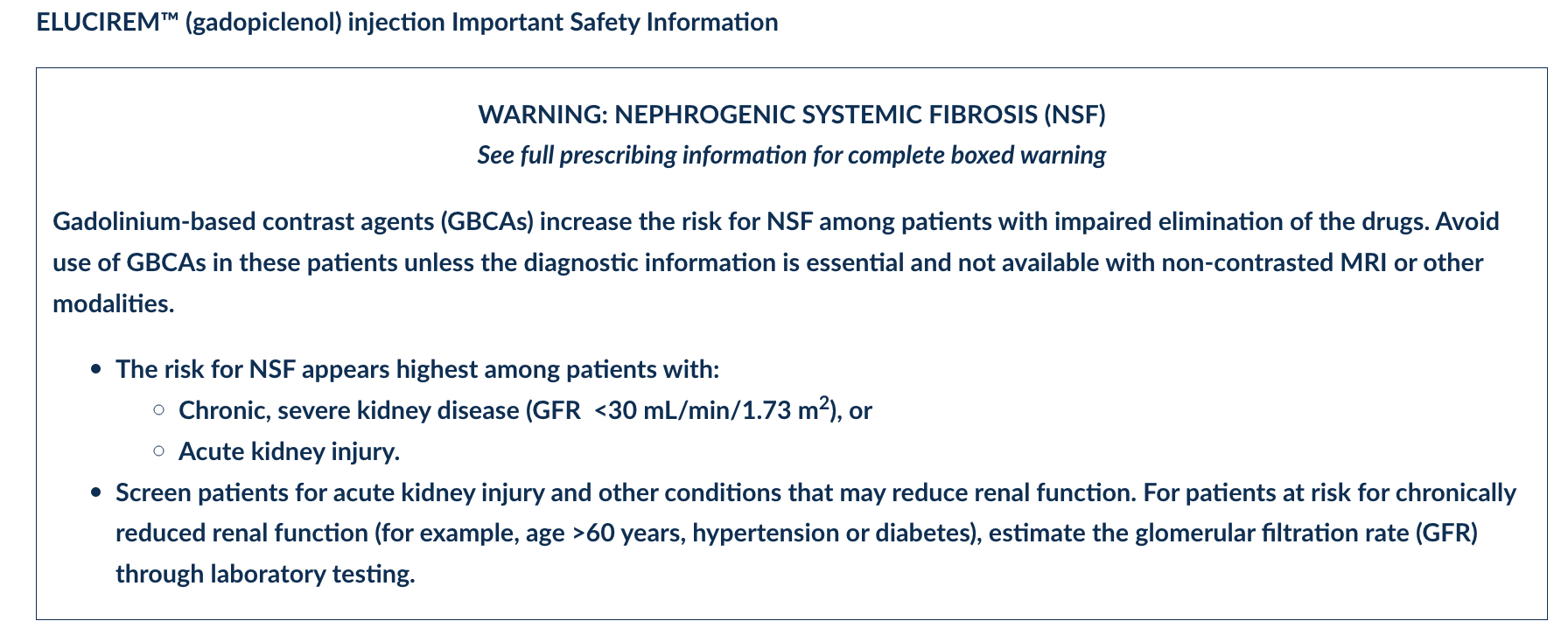 Please see additional safety information at the end of this article.
When introduced in the late 1980s, gadolinium-based contrast agents (GBCAs) transformed MR imaging. From 1988 through 1999, approximately 30 metric tons of gadolinium were administered. Now, more than 50 metric tons of gadolinium are administered to patients annually.1
Concerns about GBCA retention for patients at higher risk such as the association of gadolinium with nephrogenic systemic fibrosis (NSF) that occurs in a subgroup of patients with pre-existing kidney failure, coupled with recent studies showing retention of gadolinium in all organ systems in all patient cohorts receiving these contrast agents, have driven contrast manufacturers to continually develop next-generation agents.
Following FDA approval of Elucirem™ (gadopiclenol) injection in 2022, the first clinical injection of the GBCA in the United States took place in February 2023 at the Hospital of the University of Pennsylvania in Philadelphia. Laurie A. Loevner, MD, Chief of the Division of Neuroradiology, and Professor of radiology at the Perelman School of Medicine at the University of Pennsylvania, was involved in the clinical trials for gadopiclenol, and administered that first dose.
"I'm delighted to say that we gave the first clinical dose of Elucirem™ and found the same excellent imaging results on our contrast enhanced MR scans. Elucirem™ allows you to give half the dose of gadolinium with the same visualization of imaging findings as full dose contrast agents," she says.
The First Clinical Administration
Dr Loevner considered many factors in choosing the patient to receive the first dose of Elucirem. These included the patient's familiarity with MRI exams and the presence of a medical condition that requires multiple MRI exams over their lifetime. It was also important that the patient had not participated in any of the clinical trials that led to Elucirem's approval.
Dr Loevner was the primary investigator in the Phase II and Phase III trials for gadopiclenol. The phase III trials demonstrated that gadopiclenol is non-inferior in terms of lesion visualization at a gadolinium dose equivalent just half that of the conventional GBCA, gadobutrol.
As a result, Dr Loevner says she was comfortable dosing the first patient. She also says her experience in the trials translated to a preference for gadopiclenol in clinical usage.
"As exciting as it is, there's a little bit of trepidation when you're the first person injecting this agent. You want it to go perfectly – and it did," she says. "Our patient tolerated Elucirem well, she had no complications and then went on her way. It was very exciting, and the images were of such high quality."
Elucirem™: Stable with High Relaxivity
Gadopiclenol, a highly stable macrocyclic GBCA, has the highest relaxivity in its class for MR imaging and is indicated for use in adults and children aged 2 years and older.2,5 Elucirem™ requires only half the gadolinium dose of conventional, nonspecific GBCAs, addressing practitioners' concerns about gadolinium exposure.3,4
"Gadopiclenol represents an evolution in developing meaningful next-generation MR contrast agents because it reduces the dose of gadolinium. We all know that gadolinium is necessary for the diagnosis and monitoring of so many disease processes, but with Elucirem™ we can get the same high quality contrast enhanced images giving half as much gadolinium compared to conventional GBCAs" she says.
Elucirem™ is used to identify lesions that break down the blood brain barrier or that have abnormal vascularity in the central nervous system (brain, spine and associated tissues) and the body (head and neck, thorax, abdomen, pelvis, and musculoskeletal system).3 Guerbet received FDA approval of Elucirem™ after priority review, a designation assigned to drugs that provide significant improvements over other therapies in safety, prevention, diagnosis, and the treatment of serious conditions.6
GBCAs improve the contrast between lesions and surrounding tissues by accelerating the relaxation of protons through interaction with gadolinium atoms.5 Gadopiclenol, the active ingredient of Elucirem™, delivers twice as much interaction as other GBCAs, resulting in the highest relaxivity among nonspecific GBCAs.5
"Because of its hydrophilic nature, Elucirem™ increases relaxivity two to three times compared to all the other GBCAs out there, which allows you to get the high signal intensity on postcontrast images. This is true at both 1.5T and 3.0T. That means you can give less because the relaxivity is so much higher compared to the other GBCAs," she says.
Dr Loevner says this can be particularly helpful for oncology, neurologic, and other patients who require multiple MRI scans over time. "There's a lot of conditions that need contrast, but a lot of the conditions also require extensive multi-time point, multi annual bridging decades of imaging. And those are the patients that could benefit the most from getting a contrast agent where you can give less gadolinium," she says.
References:
Davies J, Siebenhandl-Wolff P, Tranquart F, Jones P, Evans P. Gadolinium: Pharmacokinetics and toxicity in humans and laboratory animals following contrast agent administration. Archives of toxicology. February 2022. Accessed October 26, 2023. https://www.ncbi.nlm.nih.gov/pmc/articles/PMC8837552/.
Elucirem™ [package insert]. Princeton, NJ: Guerbet LLC; 2022
Loevner LA, Kolumban B, Hutóczki G, et al. Efficacy and Safety of Gadopiclenol for Contrast-Enhanced MRI of the Central Nervous System: The PICTURE Randomized Clinical Trial. Investigative Radiology ():10.1097/RLI.0000000000000944, December 19, 2022. | DOI: 10.1097/RLI.0000000000000944
Data on file (PROMISE trial. GDX-44-011)
Robic, C., Port, M., Rousseaux, O., Louguet, S., Fretellier, N., Catoen, S., Factor, C., Le Greneur, S., Medina, C., Bourrinet, P., Raynal, I., Idée, J. M., & Corot, C. (2019). Physicochemical and Pharmacokinetic Profiles of Gadopiclenol: A New Macrocyclic Gadolinium Chelate With High T1 Relaxivity. Investigative radiology, 54(8), 475–484. https://doi.org/10.1097/RLI.0000000000000563
US FDA. Priority Review. Available at: https://www.fda.gov/patients/fast-track-breakthrough-therapy-accelerated-approval-priority-review/priority-review. Accessed August 22, 2022
---
ELUCIREM™ (gadopiclenol) injection Important Safety Information
Indications and Usage
ELUCIREM™ (gadopiclenol) injection is indicated in adult and pediatric patients aged 2 years and older for use with magnetic resonance imaging (MRI) to detect and visualize lesions with abnormal vascularity in the central nervous system (brain, spine, and associated tissues), and the body (head and neck, thorax, abdomen, pelvis, and musculoskeletal system).
Contraindications
History of hypersensitivity reactions to ELUCIREM.
Warnings and Precautions
Nephrogenic Systemic Fibrosis: GBCAs increase the risk for NSF among patients with impaired elimination of the drugs. Avoid use of GBCAs among these patients unless the diagnostic information is essential and not available with non-contrast MRI or other modalities. The GBCA-associated NSF risk appears highest for patients with chronic, severe kidney disease as well as patients with acute kidney injury.
Hypersensitivity Reactions: With GBCAs, serious hypersensitivity reactions have occurred. In most cases, initial symptoms occurred within minutes of GBCA administration and resolved with prompt emergency treatment. Before ELUCIREM administration, assess all patients for any history of a reaction to contrast media, bronchial asthma and/or allergic disorders. These patients may have an increased risk for a hypersensitivity reaction to ELUCIREM.
Gadolinium Retention: Gadolinium is retained for months or years in several organs. Linear GBCAs cause more retention than macrocyclic GBCAs. Consequences of gadolinium retention in the brain have not been established. Pathologic and clinical consequences of GBCA administration and retention in skin and other organs have been established in patients with impaired renal function. While clinical consequences of gadolinium retention have not been established in patients with normal renal function, certain patientsmight be at higher risk. These include patients requiring multiple lifetime doses, pregnant and pediatricpatients, and patients with inflammatory conditions. Consider the retention characteristics of the agentwhen choosing a GBCA for these patients. Minimize repetitive GBCA imaging studies, particularly closely spaced studies when possible
Acute Kidney Injury: In patients with chronically reduced renal function, acute kidney injury requiring dialysis has occurred with the use of GBCAs. The risk of acute kidney injury may increase with increasing dose of the contrast agent. Do not exceed the recommended dose.
Extravasation and Injection Site Reactions: Injection site reactions such as injection site pain have been reported in the clinical studies with ELUCIREM. Extravasation during ELUCIREM administration may result in tissue irritation. Ensure catheter and venous patency before the injection of ELUCIREM.
Interference with Visualization of Lesions Visible with Non-Contrast MRI: As with any GBCA, ELUCIREM may impair the visualization of lesions seen on non-contrast MRI. Therefore, caution should be exercised when Gadopiclenol MRI scans are interpreted without a companion non-contrast MRI scan.
Adverse Reactions
In clinical trials, the most frequent adverse reactions that occurred in > 0.2% of patients who received ELUCIREM included: injection site pain, headache, nausea, injection site warmth, injection site coldness, dizziness, and localized swelling.
Adverse reactions that occurred with a frequency ≤ 0.2% in patients who received 0.05 mmol/kg BW ELUCIREM included: maculopapular rash, vomiting, worsened renal impairment, feeling hot, pyrexia, oral paresthesia, dysgeusia, diarrhea, pruritus, allergic dermatitis, erythema, injection site paresthesia, Cystatin C increase, and blood creatinine increase.
Use in Specific Populations
Pregnancy: GBCAs cross the human placenta and result in fetal exposure and gadolinium retention. There are no available data on ELUCIREM use in pregnant women to evaluate for a drug-associated risk of major birth defects, miscarriage or other adverse maternal or fetal outcomes.
Lactation: There are no data on the presence of ELUCIREM in human milk, the effects on the breastfed infant, or the effects on milk production. However, published lactation data on other GBCAs indicate that 0.01 to 0.04% of the maternal gadolinium dose is excreted in breast milk.
Pediatric Use: The safety and effectiveness of ELUCIREM have not been established in pediatric patients younger than 2 years of age.
Geriatric Use: This drug is known to be substantially excreted by the kidney, and the risk of adverse reactions to this drug may be greater in patients with impaired renal function.
Renal Impairment: In patients with renal impairment, the exposure of gadopiclenol is increased compared to patients with normal renal function. This may increase the risk of adverse reactions such as nephrogenic systemic fibrosis (NSF). Avoid use of GBCAs among these patients unless the diagnostic information is essential and not available with non-contrast MRI or other modalities. No dose adjustment of ELUCIREM is recommended for patients with renal impairment. ELUCIREM can be removed from the body by hemodialysis.
You are encouraged to report negative side effects of prescription drugs to the FDA. Visit www.fda.gov/medwatch or call 1-800-FDA-1088.
Please see the full Prescribing Information, including the Medication Guide, for additional important safety information.
This website is intended for US healthcare professionals only.
For more information about Elucirem™ (gadopiclenol) injection visit: https://www.guerbet.com/en-us/products-solutions/contrast-agents/elucirem-gadopiclenol-injection
GU09230127