Bracco Takes the Lead in Diagnostic Imaging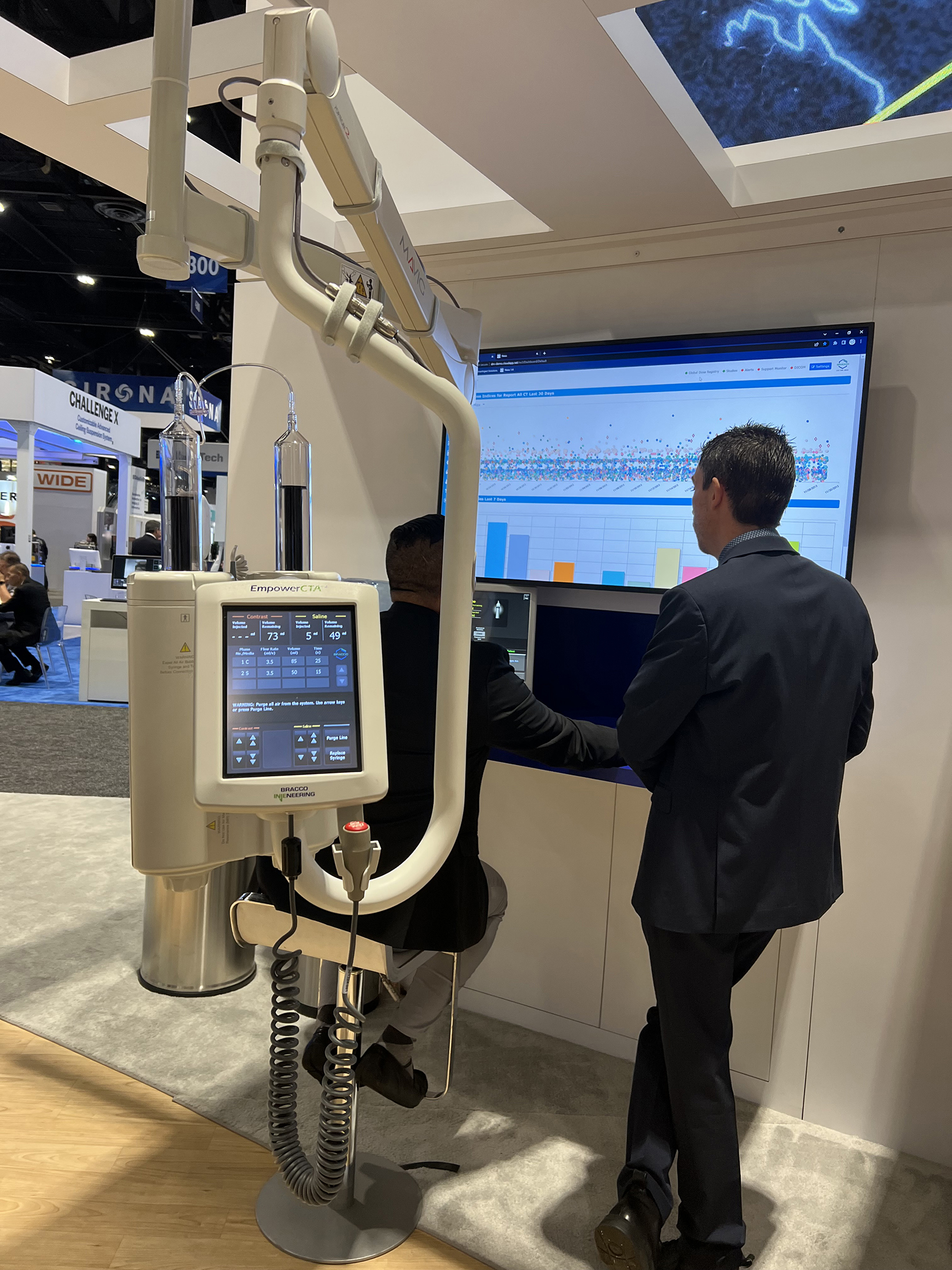 At RSNA 2022, Bracco is highlighting its suite of SmartInject Solutions, a series of interconnected technologies that help radiologists and technologists monitor and manage patient safety, keep up-to-date patient records, manage compliance, and track performance in real-time.
"Technology is the heart of the matter in managing contrast dose. At Bracco, we're developing ways to deliver better image quality and lower contrast dose to improve safety, efficiency, compliance and connectivity in the MR suite," said Chad Durling, Senior Manager, Device Marketing.
The SmartInject Solution centers on the NEXO Contrast Management System, a networking solution that provides contrast delivery tracking and protocol management for innovative decision support. Focusing on automation of all aspects of contrast delivery, NEXO provides key performance indicators that streamline procedures. In addition, tracking and measuring productivity helps clinicians maintain compliance and support quality of care.
This includes the EmpowerCTA+ injector system, an intuitive syringe-based injector system for CT imaging. It also incorporates a radiation dose software platform that monitors radiation dose for all modalities. With NEXO Dose, the complete NEXO portfolio supports quality, standardization, and safety throughout the department. It helps deliver on accuracy, drives compliance, and supports QA and QC measurements, giving radiologists and administrators important key preforming indicators and safety data. This data is directly transferred into the dictation reports, ensuring that each patient's medical record is up to date with the most recent contrast and radiation dose information.
"We want to empower radiologists to have the right data points so they can do what's best for the next patient," said Durling.
The SmartInject Solutions portfolio is part of Bracco's continued commitment to their customers and the entire radiology community. "All of these technologies ultimately help radiologists make the best imaging decisions," said Pete Nardell, Senior Manager Informatics & Device Marketing. "Our vision is to be the leader in diagnostic imaging contrast delivery to give back to the entire radiology community."
RSNA Booth: 4100