2023 Leaders on the Horizon Residents' Program Winners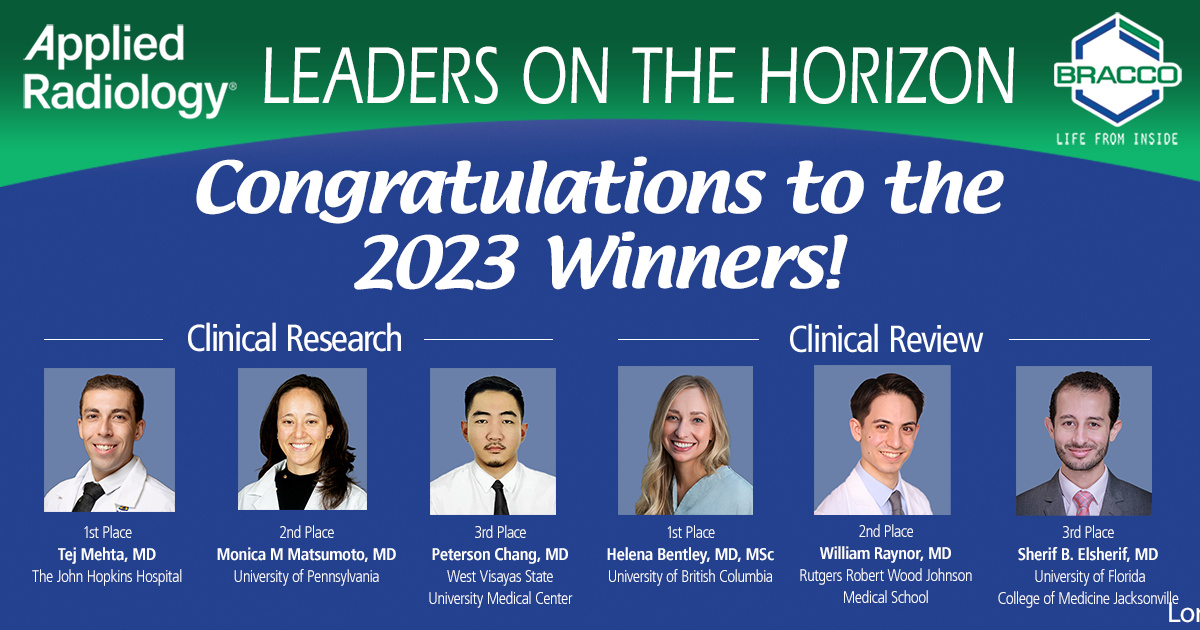 With support from Bracco Diagnostics Inc., Anderson Publishing, Ltd., publishers of Applied Radiology are pleased to announce the winners of the 2023 Leaders on the Horizon Radiology Residents' program.
Open to both international and U.S.-based radiology residents, Leaders on the Horizon aims to support continued education in radiology with an initiative designed to refine their scholarly research and writing skills, coupled with the opportunity to attend the Radiological Society of North America (RSNA) annual meeting and network with fellow residents, key opinion leaders, and industry representatives.
For 2023, participating residents were invited to develop and submit a clinical research article and/or a clinical review article focusing on any imaging modality and/or topics related to medical imaging. All submissions were reviewed by a designated committee of key opinion leaders in radiology, and the top three clinical research articles and the top three clinical review articles will be published in a special supplement to Applied Radiology in early 2024. Winning residents will receive special recognition at an honorary reception on Sunday, November 26, during RSNA 2023. There, each resident will receive a monetary scholarship award to support their continued education in the field of medical imaging.
Kieran Anderson, vice president and group publisher, Anderson Publishing, Ltd., states, "Applied Radiology is honored to meet these young radiology residents from around the globe who took part in this year's program. We look forward to working with them now and into the future and we are very excited about celebrating with them at RSNA this year".
2023 Leaders on the Horizon Winners
Research Category
Tej Ishaan Mehta MD, The Johns Hopkins Hospital
Monica Matsumoto, MD, University of Pennsylvania
Peterson Chang, MD, West Visayas State University Medical Center
Review Category
Helena Bentley, MD, MSc, University of British Columbia
William Raynor, MD, Rutgers RW Johnson Medical School
Sherif Elsherif, MD, University of Florida College of Medicine
With continued support from Bracco, Applied Radiology is excited to announce that the Leaders on the Horizon program will continue in 2024. Radiology residency program directors and coordinators are urged to share this exciting opportunity with their residents.
"We're proud to continue to support the 'Leaders on the Horizon' Residency Program," said Cosimo De Pinto, Senior Vice President of Sales and Marketing at Bracco. "This year we are thrilled that the program has expanded globally and has opened the door for all imaging modalities. This sponsorship is a part of the Bracco Under 40 Program, which further emphasizes Bracco Imaging S.p.A.'s commitment to the future development of radiologists."
About Applied Radiology
Applied Radiology is a physician-authored, clinical-review journal that has been published for over 50 years and reaches radiologists and related imaging professionals in print and digital formats. Its comprehensive content includes practical review articles, radiological cases, technology and industry updates, editorials, and related columns. Applied Radiology is published by Anderson Publishing, Ltd., a multimedia company dedicated to the development of high-quality, clinically relevant content designed to meet the needs of today's medical imaging professionals.
Learn more at www.appliedradiology.com
About Bracco Diagnostics Inc.
Bracco Diagnostics Inc., located in Monroe Township, NJ, is a U.S. subsidiary of Bracco Imaging S.p.A., part of the Bracco Group, a world-leading diagnostic imaging provider. Headquartered in Milan, Italy, Bracco Imaging develops, manufactures, and markets diagnostic imaging agents and solutions. It offers a product and solution portfolio for all key diagnostic imaging modalities: X-ray imaging (including Computed Tomography (C)T, interventional radiology, and cardiac catheterization), magnetic resonance imaging (MRI), contrast-enhanced ultrasound (CEUS), and nuclear medicine through radioactive tracers and novel PET imaging agents. Our continually evolving portfolio is completed by a range of medical devices, advanced administration systems, and dose-management software. Visit:
Contact
Anderson Publishing, Ltd.
Kieran Anderson
Vice President
D: +1 908-337-3366


Bracco Diagnostics Inc. Media Relations (USA)
Kimberly Gerweck
Senior Manager, Marketing Communications
BDIMediaContact@diag.bracco.com
D: +1 609-524-2777